October 19, 2010
Vanilla Bean Mini-Cupcakes for the Fall Fair {Naptime Entertaining}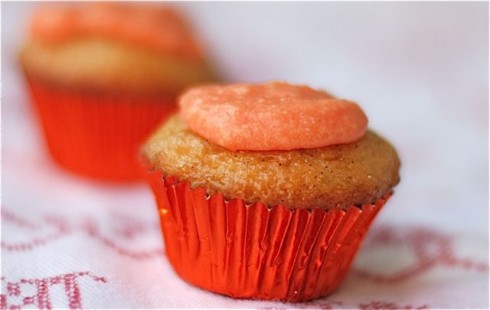 What's Going on Today: Prepping for the preschool fall fair, organizing volunteers, riding out N'oreaster.
Naptime Goals: Vanilla Bean Cupcakes, Buttercream Frosting IN BULK!
Tonight's Menu: Take-out Chinese – too much baking to do!
Parenting Lesson of the Day: They'll never know how much effort you put into their events. And that's okay.
Last Thursday I baked 15 dozen mini-cupcakes for my daughter's preschool fall fair. Am I crazy? Undoubtedly. I mean, it would have been much easier to just buy the damn cupcakes. Do you think 3 year old's know the difference between store-bought cardboard and moist cakes made with actual vanilla beans? I can answer that. No, they don't. But I do. So, if only to say that I did it, I baked them all myself. From scratch.
Making the batter wasn't tough at all. The only part that required some thought was making sure I tripled all of the ingredients. It came together quickly and easily, with a few silent prayers of thanks to my large KitchenAid mixer for handling such a huge load.  Then I baked them all, for several hours straight, until I had pans and pans of cupcakes cooling in the kitchen. The house smelled heavenly.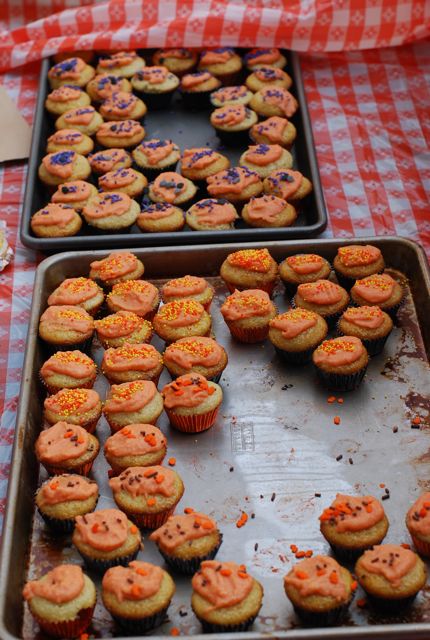 The next day I frosted them, dying the buttercream icing orange and topping it with sprinkles. I hauled them off to the fair on Saturday morning and set up the game I was in charge of, The Cupcake Walk. The game for which the kids each received a mini-cupcake for playing. The cupcakes were a hit, as were the dum-dum's being handed out at the game next to us and the pizza being served a few feet away. In short, the kids had no clue, nor did they care, that they were eating homemade vanilla bean cupcakes. But I didn't mind. Baking for her first school activity was a milestone for me. I am sure there are many, many more bake sales in my future, and many more occasions when I'll be asked to bring a sweet treat or little snack along to a meeting. And I'll bake for all of it. Because it's part of the whole parenting gig. And it's what I want to do.