December 9, 2010
Christmas Pinata Cookies for a Holiday Cookie Tray {Webisode #52}

What's Going on Today: Putting up the tree! Getting ready for the big JMcLaughlin party this weekend!
Tonight's Menu: Take-out, Mom's got some catering to do!
Naptime Goals: Make Christmas Pinata cookies for the JMcLaughlin party and some to give to our neighbors.
Parenting Lesson of the Day: The mood in here just keeps elevating.
I am so incredibly excited about the JMcLaughlin party I can hardly stand it. This is my first catering gig and my very first venture into packaged foods. Will there be more packaged foods and catering to come? Perhaps! (Read: I hope so!) The food I'll be making for the party will be mainly sweet and savory bite-size nibbles. There is no kitchen at the shop and we want customers to be browsing while they eat, not juggling heavy duty hor d'oeuvres and ignoring the pretty clothes. One of the cookies I'll be serving are these sweet Christmas Pinata cookies. My Mom ripped out the recipe from a magazine many moons ago and has made them for us every Christmas since.
As you'll see, they are called pinata cookies because of the sweet surprise inside. In this case I use Candy Cane Hershey Kisses and festive M&M's, small sweets that fit well inside the sweet buttery dough. I then froze half to keep until the party next week. The morning of the party I'll frost and decorate them. The other half my daughter and I decorated because I was taking them our neighbors for a quick hello.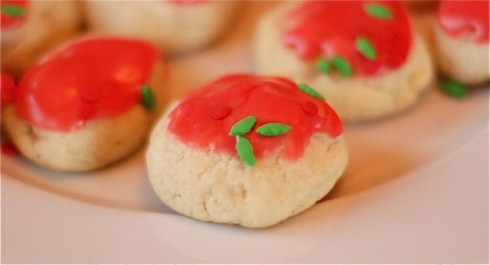 When I ate these as a kid I remember being so excited to bite into them to see if my Mom had put a chocolate candy or gumdrop inside each one. I played the same game with my daughter when I made these this year, she loved guessing which candy she was going to get! Of course, I couldn't let her eat through all of my cookies, but giving her a few didn't hurt. There are almost endless variations to the sweet surprise you can put inside. Regular Kisses, peanut M&M's, gumdrops – you name it, they are all game.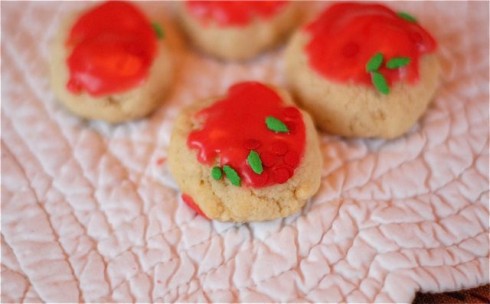 Recipe
Christmas Pinata Cookies
Ingredients
| | |
| --- | --- |
| ¾ | cup unsalted butter, room temperature |
| ½ | cup granulated sugar |
| 1 | egg |
| 1 | teaspoon vanilla extract |
| 1 ¾ | cups all-purpose flour |
| 2 to 3 | dozen small candy pieces |
| 1 | cup confectioners' sugar |
| ¼ | teaspoon vanilla |
| 4 to 5 | teaspoons milk |
Instructions
1. In a large mixing bowl beat the butter and sugar until light and fluffy. Add the egg and 1 teaspoon of vanilla and beat well. Add the flour slowly and mix until just incorporated.  Transfer dough to plastic wrap and chill for at least one hour.
2. Preheat oven to 350ºF. Pinch a teaspoon worth of dough into your hand and wrap around the candy to form a sealed ball. Place on a cookie sheet. Bake the cookies for 15 to 18 minutes, or until the edges are golden. Cool on a wire rack.
3. For the frosting stir together the confectioners' sugar, vanilla and the milk. Dip the tops of the cookies in the mixture and sprinkle with sanding sugar or holiday candies.
Naptime Notes
Naptime Recipe Serving ideas
Cover these with holiday sprinkles for a fun festive flair, they'll look great on any buffet table!
Naptime Stopwatch
10 minutes for batter, plus baking time!
Naptime Reviews
My daughter loved biting into these and finding a sweet surprise. Let's hope the shoppers at Sunday's party like them, too!