December 14, 2010
Spiced Rubbed Salmon for the Holiday Rush {Powernap}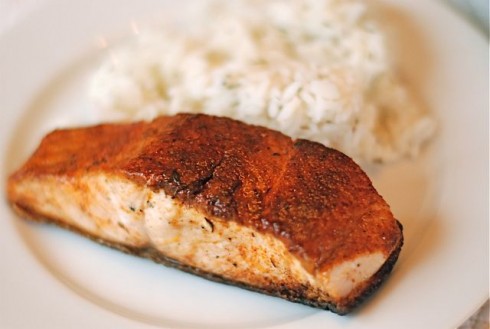 What's Going on Today: It's holiday go-time! Present shopping, preparing for daughter's holiday school activities, laundry, gift wrapping.
Naptime Goals: Finish wrapping holiday gifts before shipping them off to Cooperstown. Make up spice rub for Salmon, chop onions for herbed rice.
Tonight's Menu: Spice Rubbed Salmon, herbed rice, eggnog cheesecake.
Parenting Lesson of the Day: It's never too early to teach kids about giving back, my daughter and I went shopping for our December Socks-n-Undies donation today.
We're in the holiday rush full throttle! Last weekend was spent working on and going to the great party at JMcLaughlin in Westport. It was an awesome event, many thanks to all of you who attended. Once that was over I turned to preparing for Christmas. We hung the stockings, decorated the tree and starting wrapping like crazy. I also took some time to think of others and picked up some pajamas for Socks-n-Undies and extra toys for the donation box at my husband's office. When it comes to cooking, in the midst of the holiday chaos the best thing I can do is keep our meals simple and delicious, which is exactly where this spiced rubbed salmon comes in.
While my daughter was at school I mixed together the spices and rubbed it on the salmon. Then I left the fish in the fridge until it was time to bake them for dinner. It's not that I was blowing off dinner, this is just one of the simplest and most delicious ways I know to prepare salmon and it happens to take barely any time at all. The sweet, spicy fish makes a wonderful meal when paired with party rice and a green salad.  An added bonus is that it is also light and healthy. Knowing the the holidays will be full of sweets and good cheer (read: sugar and wine) I am doing my best to mind my waistline for now.
With the small amount of time it took to prepare a great dinner during naptime I had a lot of time left to do other things. While I would have loved to put my feet up with a cup of hot chocolate I, instead, spent the rest of the time before school pick up wrapping, planning and ordering. Ah, well, 'Tis the season!
Recipe
Spiced Rubbed Salmon
Ingredients
| | |
| --- | --- |
| 2 | salmon fillets |
| 1/3 | cup Kosher salt |
| ¼ | cup chili powder |
| ¼ | cup paprika |
| 2 | tablespoons garlic powder |
| 1 | tablespoon cayenne |
| 2 | tablespoons coriander |
| 1 | tablespoon freshly ground black pepper |
| 2 | tablespoons dried thyme |
| 3 -4 | tablespoons olive oil |
Instructions
1. Mix the spices together in a small bowl. Brush the top of them salmon with olive oil and rub with enough of the spice mixture to lightly coat the salmon. Reserve the rest for another meal.
2. Preheat the oven to 350ºF. Bake the salmon skin side down 30 – 4o minutes, or until it is cooked through.
Naptime Notes
Naptime Recipe Serving ideas
This is a great recipe for both summer and winter. I like pairing salmon with grains like cous-cous, rice or polenta. This is a great recipe for a quick dinner party, too! There will be a lot of spice rub left over, but I always make this amount because it is so nice to have around!
Naptime Stopwatch
10 minutes for salmon prep, plus baking time.
Naptime Reviews
My daughter is still coming around to salmon, this recipe is a moderate success with her. It is a huge success with the adults.