March 15, 2011
Ridiculous Reese's Pieces Peanut Butter Cookies {Powernap}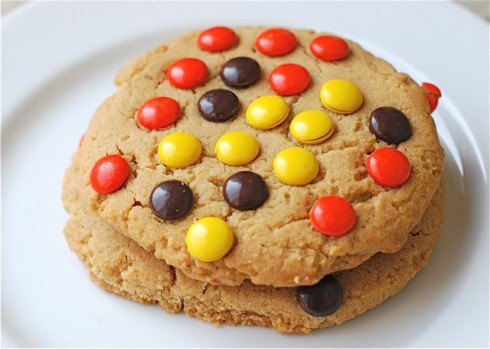 This is the latest installment of my Powernap column. The series where I share quick, easy food that can be made for all kinds of situations. Powernaps are short and sweet, and so are these recipes. These are the things I make in a jiffy when I need a quick snack, am in the mood for a recipe experiment, or simply need to clean out the pantry.
Today's Powernap Kitchen Test: Can I successfully replicate some delicious cookies I ate in Boston whilst satisfying my intense peanut butter craving?

Today I am making good on my promise to replicate the amazing cookies we ate at The South End Buttery when we were in Boston last January. Our entire meal there was amazing, but the cookies are what still stand out for both of us. The idea behind them is hardly unique but, somehow, they were just so much better than other frisbee size bakery cookies I've tried. They were, as the title suggests, ridiculously gigantic. And while that usually means a cookie will be dense and hard, these were moist and a little crumbly with soft layers of creamy peanut butter. They were also completely coated in Reese's Pieces candies which gave them a fun twist and nice crunchy texture.
To replicate them in my own kitchen I looked back to my favorite Peanut Butter cookie recipes list and decided on the Cook's Illustrated cookie recipe I've used before. It is almost like a peanut butter shortbread and I knew it would stand up to being formed into double-size cookies and studded with candy. Once I whipped up the dough during naptime I formed it into large disks that were about four inches in diameter and one-quarter inch thick. That amounts to one big cookie when baked! Then I pressed loads of Reese's Pieces into the dough and chilled them for the afternoon before baking them after my daughter's bedtime. According to my husband they were by all accounts an excellent duplication of the Buttery's beloved cookie. Thank goodness for this because I don't think we'll be back in Boston until this summer and I don't know if I could've waited that long for another one of these!
Recipe
Best Ever Peanut Butter Cookies
adapted from Cook's Illustrated, 1996
Ingredients
| | |
| --- | --- |
| 2 c. | unsalted butter, room temperature |
| 1 c. | superfine sugar or regular granulated sugar |
| 2/3 c. | good quality commercial peanut butter (preferbly organic) |
| 1 t. | Kosher Salt |
| 1 | egg |
| 1 | egg yolk |
| 2 t. | vanilla extract |
| 2 ½ c. | all-purpose flour |
| 2 | bags Reese's Pieces Candies |
Instructions
In an electric mixer cream the butter, sugar and peanut butter until light and fluffy. About 3 minutes. Then, add the egg yolk, egg and vanilla and mix to combine.
Scrape down the sides of the mixing bowl before proceeding. Then, add the salt and flour in small amounts with the mixer on low until it is just incorporated.
Form the dough into disks about four inches in diameter and ¼ inch thick. Press the Reese's pieces into the dough and wrap each disk up and chill them for about 3 hours or up to one day.
Preheat oven to 375ºF. Bring the dough to room temperature. Line a baking sheet with parchment paper or Silpat.  Place the disks on the lined baking sheets and bake them for about 10 to 15 minutes, or until the cookies are golden brown around the edges. Cool on a wire rack and serve.
Naptime Notes
Naptime Recipe Serving ideas
For chocolate peanut butter cookies use M&M's instead of Reese's Pieces!
Naptime Stopwatch
20 minutes to make the dough and form the disks, 15 minutes bake time.
Naptime Reviews
These were a huge hit with my husband who had been dreaming about these since January. My daughter wasn't with us on that trip, but she loved them too!