June 28, 2011
Deconstructed Salad: Fresh Strawberries with Poppy Seed Dressing {Powernap}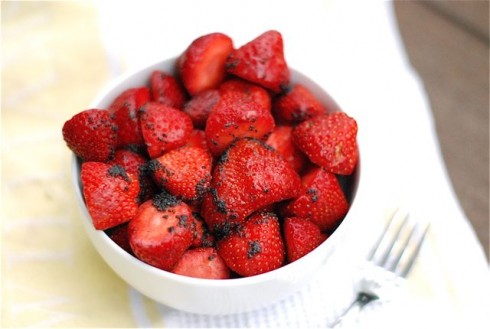 This is the latest installment of my Powernap column. The series where I share quick, easy food that can be made for all kinds of situations. Powernaps are short and sweet, and so are these recipes. These are the things I make in a jiffy when I need a quick snack, am in the mood for a recipe experiment, or simply need to clean out the pantry.
My childhood friend Stephen lives in Madrid and is a consummate foodie. When not at work he frequently wanders Spain, and all of Europe for that matter, in search of good eats. The other day he left a casual comment on my Facebook fanpage sharing how he had just returned from Roland Garros where he had enjoyed a delicious salad of strawberries in poppy seed dressing. Strawberries & Spinach with Poppy Seed Dressing is a very popular stateside salad, but his post gave me an idea. Why not ditch the spinach and sliced almonds (the former of which I didn't have on hand anyway) and just toss my freshly-picked berries with a tart dressing for a late lunch? It sounded simple, delicious and easy to make, so I turned to the berry basket and got to work.
There are many, many variations of poppy seed dressing and I dreamt up this one based on what I believed would be the best flavors to contrast with the sweet berries. I kept it light with a simple oil, vinegar and salt mixture. Many dressings call for mayonnaise, which I don't really like that much. With my daughter off at camp — we had gone strawberry picking that morning — I had plenty of time to whisk together the dressing and treat myself to a big bowl for lunch. The sweet strawberries were cloaked in a wonderful acidic dressing, they tasted like a delicious sweet-tart candy. The perfect powernap recipe, indeed.
Recipe
Fresh Strawberries with Poppy Seed Dressing
Ingredients
| | |
| --- | --- |
| 3 | tablespoons red wine vinegar |
| 1/8 | cup sugar |
| 1 | pinch salt |
| 1/3 | cup canola oil |
| 1 | teaspoon poppy seeds |
Instructions
1. Place the vinegar, sugar and salt in a large bowl and whisk together. While whisking, pour in the olive oil until completely emulsified. Toss with fresh strawberries and serve.
Naptime Notes
Naptime Recipe Serving ideas
To make this into a full salad serve it with baby spinach and sliced almonds. Some people had mayonnaise to their dressings but I prefer it without.
Naptime Stopwatch
10 minutes for the dressing and tossing!
Naptime Reviews
I made this again for my daughter and she didn't love the vinegar, but my husband adored it and ate it straight up!