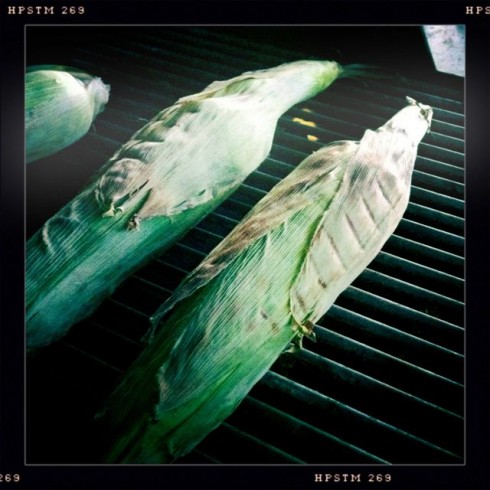 I have had so much fun reading all of your awesome summer vegetable recipes made with six ingredients are less. You all have so many great ideas! Today I am pleased to announce that Wendy Thompson is the winner of the Dinner @6 contest and her winning recipe is showcased below. It was very tough to choose which one to go with, but I really liked this because it truly showcased the flavor of one of my favorite summer vegetables. In Wendy's recipe the corn is soaked and grilled in the husk. Then it is slathered with spicy jalapeno butter for a great kick. I don't know why, but I'd never thought of jalapeno butter and now I am totally in love with it! Also, rest assured I read through all the entries, even the ones that came in late yesterday!
Don't forget to check out the American Express Blue Cash cards!
Recipe
 Wendy's Grilled Corn with Spicy Jalapeno Butter!
Ingredients
| | |
| --- | --- |
| 4 | ears of corn |
| 2 | jalapenos, seeded and diced |
| 8 | tablespoons unsalted butter |
Instructions
1. Soak the corn in a large tub of water, weighing it down with a heavy object to make sure it is totally submerged. Heat the grill to medium flame and grill the corn on all sides until cooked through.
2. Meanwhile, stir the soft butter and jalapenos together. When the corn is cool, peel back the husks and slather each ear with the spicy butter. Serve!
Naptime Notes
Naptime Recipe Serving ideas