July 13, 2011
Sea Salt Brownie & Chai Ice Cream Sandwiches & Ice Cream Maker Giveaway! {Naptime Everyday}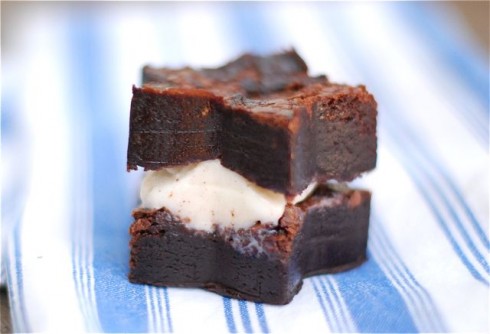 What's Happening Today: Hot, hot, hot summer day. In the mood for something chilly after a long afternoon at the beach.
Naptime Goals: Make Chai Ice Cream and Sea Salt Brownies
Tonight's Menu: Char's Chinese Chicken Salad, White Wine, Sea Salt Brownie – Chai Ice Cream Sandwiches
While I firmly respect my daughter's love of mint chip ice cream sandwiched between chocolate cookies, sometimes I am in the mood for more adult flavors. It's not that my daughter doesn't like sea salt brownies with chai ice cream, but it is definitely not the dessert she asks for everyday. Iced Chai lattes are my cold beverage of choice in the summer so turning it into ice cream seemed to be a natural fit when I was dreaming up new ice cream flavors during a hot day at the beach last week.
To infuse the ice cream with chai flavors I steeped the milk base with the spices from my favorite chai tea spice bag. I use the Double Spice Chai tea bags from Target. If you have a preferred brand of chai tea feel free to use that, it will work just as well. During naptime I made the base and chilled it in the ice bath for an hour. Then, just before my daughter woke up, I churned it in the ice cream maker before scooping it into my container to harden in the freezer. While the ice cream was chilling I quickly mixed together some brownies and popped them in the oven.
After dinner we sandwiched the brownies and ice cream in our favorite ice cream sandwich molds to make a delicious frozen treat.  The sea salt brownies paired perfectly with the sweet spiced ice cream. Even my daughter tried a bite, before asking for her preferred mint chip of course.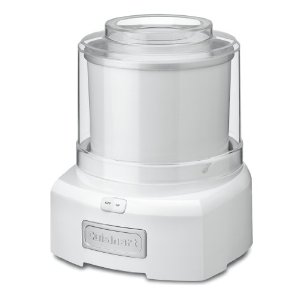 In order to get everyone in the ice cream making spirit this summer I am giving away a Cuisinart Ice-21 this week! It is a perfect, basic ice cream maker that I swear by. To enter to win your very own ice cream maker:
1. Leave a comment sharing your ice cream flavor.
2. Sign up for the Naptime Chef newsletter, (on upper left hand corner).
3. Join the Naptime Chef Facebook Fanpage.
4. Contest runs from July 13th at 7:00am through July 20th at 11:59am ET.