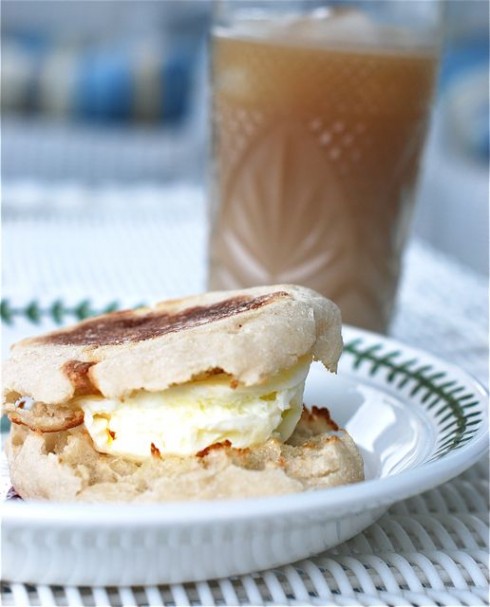 With the school year beginning soon it is time to start thinking about quick breakfast and lunch menus. My daughter goes to afternoon school, but our weekday mornings are still on the harried side. We are usually up and at 'em and off to activities like ballet or swimming, then we come home for a quick lunch before school. I consider breakfast incredibly important in our house because they set us both up for a good day. If my daughter has a good, healthy breakfast like this protein packed sandwich I know she will have a fun morning at her classes and a great afternoon at school. She won't have any breakdowns from being hungry or tired and the eggs will easily sustain her through all of her physical exertion.
Today I've teamed up with the American Egg Board to discuss why eggs are a terrific, healthy breakfast for kids to eat before school. And, to convince you that they don't take too long to make in the morning, I am sharing our favorite recipe for a fast egg sandwich you can make in a jiffy. I swear! Another reason to make eggs in the morning is that they are very healthy. They provide high quality protein, provide sustained energy, improve cognition, and eggs are now 14 percent lower in cholesterol and 64 percent higher in vitamin D. I can't think of a breakfast food that is healthier or more beneficial than that!
The American Egg Board shared a few things with me that I found very interesting and I think you will, too. Today, I am going to share the findings from a recent survey regarding why teachers and parents agree that eggs are a great way for kids to start off the day. In September, I am going to share a dozen reasons why it is a good idea to start the morning off with eggs. You will find them fascinating!  First up, the survey results and a great recipe for you. Do you have any fast egg recipes you make in the morning? Please share!
The American Egg Board recently surveyed more than 1,000 moms and teachers, to investigate the role breakfast plays at home and in the classroom. The results emphasized the critical role breakfast and, in particular, eggs play on important days.  
Key Survey Findings
The Best Way to Start Important Days: More than four out of five moms (83 percent) and teachers (79 percent) agree that a high-quality protein breakfast of eggs is the best way to start important days.
So what is an Important Day, Anyway? Here are the top six days or events that moms and teachers consider to be important days (defined as a day that requires extra preparation, extra effort, etc.): test days (83 percent), first day of school (82 percent), project/speech presentation (66 percent), math competition (55 percent), sporting events/practices (49 percent) and band concert/musical performance (45 percent).
Eggs Beat Other Breakfast Foods: More than half of all moms and teachers (57 percent) think eggs are "the best breakfast for important days," making eggs more than twice as popular as other breakfast items such as oatmeal (22 percent), cold cereal (4 percent) and waffles (2 percent), combined.
Less is Not More When it Comes to an Egg Breakfast: More than four out of five moms (83 percent) and three out of four teachers (74 percent) agree that more kids should start their day with eggs.
Eggs Help Kids Rise and Keep Shining: More than one in three moms and teachers notice that, when their kids or students eat eggs for breakfast, they feel more energetic, are more mentally alert and they don't feel hungry until lunch.
Convenience Already in the Kitchen: Despite the fact that microwaves can be an incredible time-saver during hectic mornings, two-thirds of moms (66 percent) say they never use a microwave to cook eggs.
Visit Facebook or IncredibleEgg.org for more back-to-school egg recipes, deals, tips, nutrition information and more.
Recipe
 Super Fast Egg Sandwich
Ingredients
| | |
| --- | --- |
| 1 | whole wheat English muffin |
| 1 | egg |
| 1 | small pat of butter or margerine |
| 2 | tablespoons Parmesan cheese |
Salt & Pepper

Instructions
1. Spray the inside of a ramekin with cooking spray or rub it with a little bit of olive oil. Break one egg into a small ramekin or small rimmed dish. Microwave the egg for one minute on high, or until the yolk is set.
2. Meanwhile, toast the English muffin and spread a little bit of butter on both sides.
3. Run a knife along the rim of the ramekin to dislodge the egg and set it on top of one of the muffins. Sprinkle with Parmesan cheese, and a pinch of salt and pepper. Close the sandwich with the second half of the muffin and enjoy!
Naptime Notes
Naptime Recipe Serving ideas
*Disclosure: I was compensated for my time for writing this post and sharing this information. The opinions expressed and recipe are entirely my own.