August 18, 2011
Kirsten's Reese's Pieces Delight {Powernap}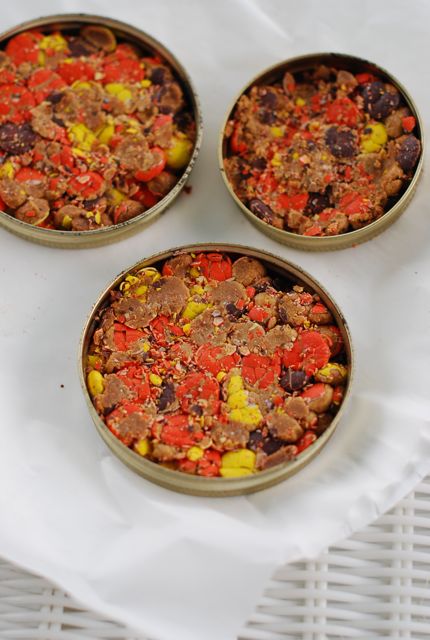 This is my end of vacation Powernap recipe. As you can tell from last week's candy article, I happily indulge in the occasional candy bar. One of the things that also came out of my informal Facebook survey was my friend Kirsten's (also of lemon ice cream fame) "recipe" for crushed Reese's Pieces candy. Frozen Reese's Pieces are just regular old Reese's Pieces, but in this recipe Kirsten crushes them, melts them and refreezes them which creates an entirely new treat!
To do this at home during naptime I used the food processor to crush the candy. It worked well, but I think a rolling pin would've broken them more evenly. I also didn't have my usual biscuit cutters at hand so I used canning rims since they are oven proof. These frozen Reese's cakes were absolutely delicious. When the candy melted together the splintered candy coated sunk into the creamy peanut butter and it became a creamy, crunchy candy, almost like it had been turned inside out. Once they had frozen I popped them out of the canning lids and we ate them like mini Reese's cakes. They were indulgent to boot, but there is nothing wrong with finding a new way to enjoy Reese's once in a while!
Recipe
Kirsten's Reese's Pieces Delight
Ingredients
Instructions
1. Preheat the oven to 350F.
2. Gently crush the Reese's with a food processor or with a rolling pin. Place the crushed pieces into biscuit cutters in one even layer. Bake them for about 10 minutes, pulling them out of the oven and pressing down on them with a wooden spoon as needed to keep them evenly crushed.
3. Place the warm rings on a cookie sheet or plate and freeze them until rock solid. Remove from freezer and eat!
Naptime Notes
Naptime Recipe Serving ideas
This childlike dessert needs little  accompaniment!
Naptime Stopwatch
12 minutes, plus freezing time!