August 23, 2011
Raspberry Chardonnay Slushies {Powernap}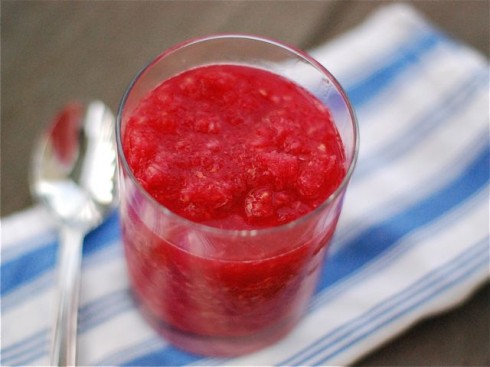 This is the latest installment of my Powernap column. The series where I share quick, easy food that can be made for all kinds of situations. Powernaps are short and sweet, and so are these recipes. These are the things I make in a jiffy when I need a quick snack, am in the mood for a recipe experiment, or simply need to clean out the pantry.
Last month when my friend Caroline served us the Strawberry Slushies from the most recent Bon Appetit and I thought I'd just about died and gone to heaven. Fresh juicy strawberries and dry wine churned into an icy slush, the boozy concoction straddled the line between cocktail and dessert. It was sweet, yet refreshing, and became an instant summer favorite. I've made these slushies several times since, and while Caroline served them for happy hour, we usually enjoy them as a cool apertif.
When I decided to make these last week I used raspberries because the strawberries from our farmer's market were long gone. Faced with the choice of peaches, blueberries or raspberries I chose with the latter because I still wanted the sweet red berry flavor to pair with the wine. At home I thought I had a Riesling on hand, though it turns out that bottle was, in fact, Chardonnay, so I substituted that since I couldn't exactly run out to the wine store while my daughter napped. Pureeing and churning the slushies took about twenty minutes in full. Then I popped the entire freezer bowl from the ice cream maker into the freezer and eagerly looked forward to a refreshing evening dessert.
Recipe
 Raspberry Chardonnay Slushies
Ingredients
| | |
| --- | --- |
|  2 | cups raspberries, rinsed and patted dry |
|  1 | 750 ml bottle chardonnay |
| 1 | tablespoon fresh lemon juice |
| 2 | tablespoons sugar |
Instructions
Puree the raspberries, chardonnay, lemon juice and sugar in a food processor. Pour the mixture into the ice cream maker and process according to manufacturers directions. Scoop the slushies out of the freezer bowl and place them in a freezer container to store until ready to drink. Allow to thaw to slushy consistency before serving.
Naptime Notes
Naptime Recipe Serving ideas
This is a deceptively strong beverage so pour small portions for guests!
Naptime Stopwatch
5 minutes to process, 20 minutes to churn
Naptime Reviews
This new flavor was fantastic and I think most berries would work. For other fruit be sure to strain out the seeds!