August 31, 2011
Slow-Roasted Tomatoes with Zucchini & Herbed Ricotta {Naptime Everyday}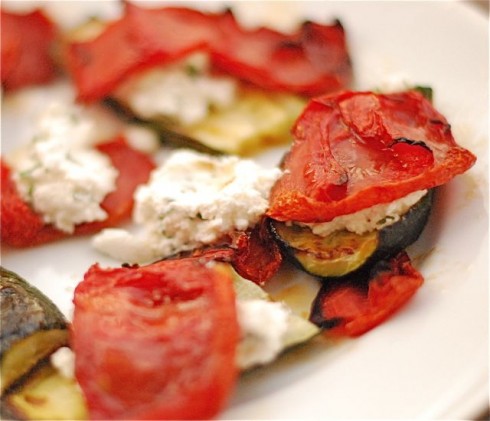 What's Going on Today: Morning at the Farmer's Market, rainy afternoon at home, laundry, scheduling fall activities!
Naptime Goals: Slow-Roasted Tomatoes, prepare zucchini and herbed ricotta.
Tonight's Menu: Slow-Roasted Tomatoes with Zucchini and Herbed Ricotta Caprese-Style, grilled Lemon Chicken, Chocolate Chip Oatmeal Coconut Cookies.
I am all about tomato season these days. The little tomato plant I've been cultivating all summer on our back porch is yielding at least two cups of delicious cherry tomatoes every day and our farmer's market is positively brimming with tomatoes of nearly every variety. What I wouldn't give to have tomatoes like this available year-round! Since I don't, however, I do what any normal person would do and completely gorge on the harvest while it is here. I also plan to brave my grandmother's canning recipe and preserve some for this winter. But, that is a story for another time. Today we are doing to talking about my newest favorite riff on caprese salad and why it is bound to become yours, too.
As I frequently do in the summer, while my daughter napped I slow-roasted two dozen of the four (!) I had picked up at the market that morning. (Yes, if you are wondering, I do have a tomato purchasing disorder and I figure it is cheaper than shoes so I have no plans to go into recovery.) As they were roasting I decided to do a Slow-Roasted Tomato Caprese Salad for dinner, but realized I didn't have any fresh mozzarella on hand. Instead I decided to use the rest of the fresh ricotta I had on hand and added lots of chopped fresh basil from the plant on our porch.
Once the tomatoes were done roasting I set them aside for the afternoon and left our herbed ricotta in the fridge to layer right before dinner. While we were heating up the grill for dinner I decided to add one last element to my already very loosely interpreted caprese salad and roast the last two zucchini I had on hand to layer it in with the tomatoes and herbed ricotta. We loved the added flavor and color and considered it a winner.