September 22, 2011
Birthday Week: Baked Caramelized Onion & Spinach Dip with Spicy Panko Crust {Powernap}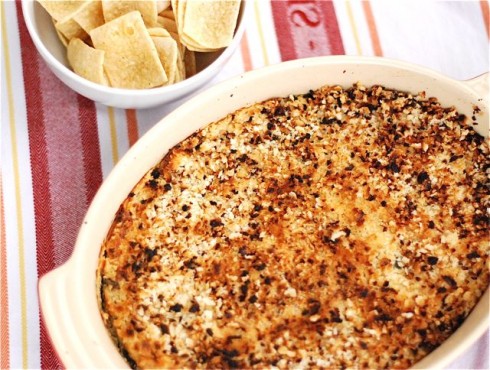 This is the latest installment of my Powernap column. The series where I share quick, easy food that can be made for all kinds of situations. Powernaps are short and sweet, and so are these recipes. These are the things I make in a jiffy when I need a quick snack, am in the mood for a recipe experiment, or simply need to clean out the pantry.
Today's Powernap: My birthday week continued with friends stopping by for a quick bite and I wanted to serve them something warm on a cool evening. With not a ton of time or ingredients on hand I decided to fall back on an old classic, baked spinach dip, but with twist.
Don't forget BIRTHDAY WEEK on The Naptime Chef! This is my fourth birthday week post; see below for Birthday Favorite Things Giveaway details!
I love it when people stop in for a casual hello. I always try to have something on hand for when they do and I especially like to have that something be warm when the weather gets cooler. Last week I knew people were planning to stop by so I whipped up this savory dip with spinach, caramelized onions and a spicy panko topping. As you can see, I took my eye off the broiler for about five seconds too long which is why some of the bread crumbs became overly toasted, but no matter, it still tasted great.
While my daughter was at school I caramelized the onions, cooked the spinach and pulled the dip together. Then I topped it with the spicy panko and had it ready to pop in the oven. When our guests came over later that evening I baked it for about twenty minutes before I knew they would arrive and set out a big platter filled with dipping chips. I barely managed this photo before everyone arrived and the wine was poured. Thank goodness I did, it was all gone by the time everyone left!
Rules for Birthday Week Favorite Things Giveaway (including: Favorite Cookbook, Tea, Cookies, Tote Bag (above), Mixing Bowls (above) and Cookie Spatula):

1. Leave a comment sharing a what your FAVORITE savory birthday party nibble!
2. Subscribe to The Naptime Chef newsletter (upper right hand corner) – I'll check!
3. Become a fan of The Naptime Chef on Facebook
4. Extra Entry: Share the link to this post with your friends on Facebook and link to @TheNaptimeChef Facebook fanpage
5. Extra Entry: Tweet about this giveaway on Twitter and link to hashtag @TheNaptimeChef
6. Extra Entry: Follow me on Stumbleupon and stumble this entry by clicking the green thumbs up
7. 6 Extra Entries: Write a blog post between now and Thursday September 22nd about how you celebrate birthdays in your family and include a recipe for a favorite birthday cake or birthday dish and tell your readers about this post with a link back to it. You will be listed in the post next Friday September 23rd as an official sponsor.
8. Contest will run from September 15th at 7:00am through Saturday, September 24th at 7:00am. Winner will be announced on Sunday September 25th at 7:00am. If the winner does not respond within 48 hours a new winner will be drawn. Winner be selected by random.org.
9. Giveaway items can only be mailed within the continental US.
*Giveaway items generously donated by Andrews McMeel, OXO Good Grips and JMcLaughlin.
Recipe
Caramelized Onion & Spinach Dip with Spicy Panko Crust
Ingredients
| | |
| --- | --- |
| 8 | ounces cream cheese, room temperature |
| ½ | cup sour cream |
| 1 | cup mayonnaise |
| 2 | garlic cloves, minced |
| 1 | cup Parmesan Cheese |
| 3 | yellow onions, roughly chopped |
| 3 | cups baby spinach, roughly chopped |
| 1 | cup panko bread crumbs |
| 1 | teaspoon cayenne pepper |
| 1 | tablespoon unsalted butter |
Kosher salt & Pepper
Instructions
1. Preheat the oven to 325F.
2. In a medium skillet over medium heat warm the onions and allow them saute until browned and caramelized – about 20 minutes. Then add the spinach and stir it into the onions until wilted. About 2 minutes.
3. Meanwhile, in an electric mixer beat together the sour cream, cream cheese, mayonnaise, garlic and Parmesan until smooth. Taste for flavor and add a dash of salt and pepper if needed. Stir the caramelized onions into the cream cheese mixture and spread it into a medium-sized baking dish.
4. Stir together the cayenne and panko and spread it on top of the dip and dot the butter pieces on top.
5. Bake for about 20 minutes or until heated through. To toast the breadcrumbs pop the dish under the broiler until golden brown. Do NOT leave unattended!
Naptime Notes
Naptime Recipe Serving ideas
This gorgeous dip is so flexible, you can omit the spinach if you want or change the topping to be less or more spicy!
Naptime Stopwatch
20 minutes to prep, 20 minutes to bake
Naptime Reviews
My daughter did not like this dip, but I was not surprised by that. The adults loved it!