October 6, 2011
Weeknight Spicy Sausage Spaghetti Pie {Naptime Everday}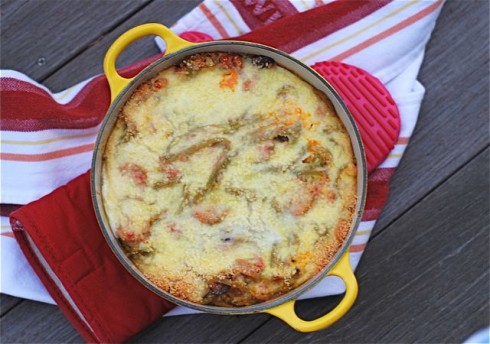 What's Going on Today: Lazy Sunday at home, pumpkin patch trip, wrapping up the weekend laundry and cleaning before the week begins! Sunday Naptime Goals: Laundry, organize school projects for the week (so much to send in!), prep spaghetti pie to bake for dinner. Tonight's Menu: Spicy Sausage Spaghetti Pie, Green Salad, Wine, Heart-Stopping Bread We love a good lazy Sunday. The kind of day where there is no agenda in particular except that everyone plans on an afternoon nap. Last week we our lazy day involved a trip to the local pumpkin patch followed by naptime during a rainstorm. I did some work and pattered around the house while my husband finished up some projects of his own. In the middle of it all I prepared this simple Spicy Sausage Spaghetti Pie and set is aside for dinner. A hearty baked casserole is always the perfect kind of dinner to fortify use for the busy week ahead. My simple philosophy about spaghetti pie is that it is a classic dish that doesn't need to be fussed with. In fact, the more time you spend complicating the recipe the worse it becomes. It is simply spaghetti and homemade sauce baked with eggs and milk to help it set like a pie. We love it because the silky egg mixture gives it an almost carbonara like feel that is decadent and fun. My daughter loves it because it is still the spaghetti and meat sauce she loves. This time I prepared the whole thing during naptime and baked it right before dinner. On other occasions I've baked the whole thing in the afternoon and simply reheated it for dinner. Either way works just fine. I choose to give this one a little kick with spicy sausage and red pepper flakes, but nearly any kind of ground meat would work. I've also made this with roasted vegetables and omitted the meat altogether which is just as tasty! The point is not to over-think it, just have fun. After all, isn't that the point of a lazy Sunday to begin with?  
Recipe
Spicy Sausage Spaghetti Pie
Ingredients
| | |
| --- | --- |
| 1 | pound spaghetti or long strand pasta (we used spinach spaghetti) |
| 2 | teaspoons olive oil |
| 3 | spicy sausage links, casings removed |
| 1 ½ | cups marinara sauce (homemade or store-bought) |
| 1 | large pinch red pepper flakes |
| 4 | eggs |
| ½ | cup milk |
| ½ | cup freshly grated Parmesan cheese |
Instructions
1. Preheat the oven to 350F. 2. In a large pot, warm the olive oil and add the sausage. Cook the sausage until no longer pink, breaking it up into small pieces as it cooks. Pour in the marinara sauce and red pepper flakes and stir until heated through. 3. Meanwhile, cook the pasta until just al dente and drain. 4. Add the cooked pasta to the pan with the marinara sauce and toss everything together. Pour the mixture into an ovenproof 3-quart baking dish. 5. Whisk together the milk and eggs and pour it over the spaghetti. Then sprinkle the top with Parmesan cheese. 6. Bake for about 30 to 35 minutes, or until heated through.  
Naptime Notes
Naptime Recipe Serving ideas
We serve this like we do spaghetti, with salad and bread on the side. You could easily substitute ground turkey or beef for the sausage and omit the red pepper flakes!
Naptime Stopwatch
20 minutes prep time, 30 minutes bake time!
Naptime Reviews
My daughter enjoyed the new form of her spaghetti and we loved it. It is one of those classic meals that appeals to both kids and adults!