November 3, 2011
Roast Chicken Stuffed with Corn & Parsley for Cold-Weather Cooking {Naptime Everyday}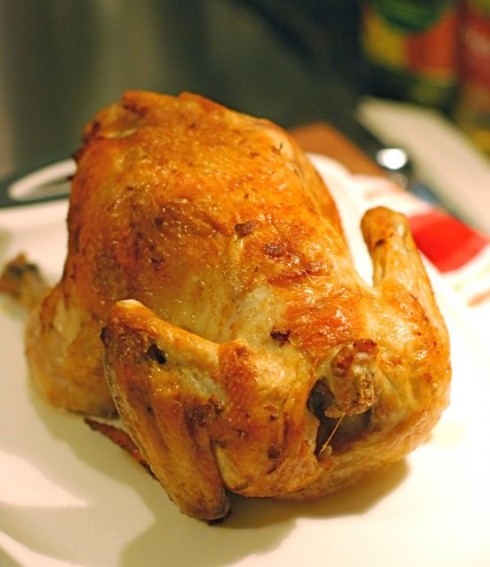 What's Going on Today: Post-Halloween detox spinning class, school day, cleaning out the herb pots!
Naptime Goals: Prep chicken for roasting!
Tonight's Menu: Roast Chicken Stuffed with Corn & Parsley, Green Salad, Fingerling Potatoes with olive oil
Last week the weather dropped 20 degrees in a matter for 12 hours. It was an unwelcome way to abruptly end our mild fall, but I suppose it had to happen sooner or later. Since I am powerless when it comes to changing the weather the most reasonable thing to do seemed to be to commence cold weather cooking. This is the cooking style I save for temperatures south of the 50-degree mark, meals with a heartier, stick-to-your-ribs kind of feel. To herald in the naptime cold-weather cooking season I decided to begin with a true classic, roast chicken.
I hardly ever roast a chicken the same way twice and this time I decided to stuff it with some leftover fresh corn and parsley, and season it with a rub of herbs and olive oil. The herbs I happen to use, oregano, parsley and basil, were from the last herb pot harvest of the season. The snow and frost last week just about killed the whole thing off and I felt the best thing to do was chop up the few surviving leaves and use them for dinner.
Per the method I go-to chicken seasoning method, I prepped the whole thing while my daughter was at school mid-day and left the bird covered in the fridge until roasting time. I can not emphasize enough how much flavor the advance prep lends to the chicken. The meat spends the entire afternoon absorbing all the yummy herby flavors until it every last piece is infused. For dinner I popped it in the oven, whipped up our simple side dishes and waited for our chicken to emerge all moist and flavorful with perfectly crispy skin. Then we carved it up, ate like the hearty fall soles we are, and save the leftover meat for the next cold-weather cooking meal on my list: chicken enchiladas.
Recipe
 Roast Chicken Stuffed with Corn & Parsley
Ingredients
| | |
| --- | --- |
| 1 | 3 to 4 pound organic roaster chicken, giblets removed |
| 1 | lemon, zested and quartered |
| 1 | cup olive oil |
| 1 | teaspoon kosher salt |
| 2 | tablespoons fresh herb mix (finely chopped fresh herbs such as oregano, parsley & basil, or your choice) |
| 1 | cup fresh or frozen corn kernels |
| ½ | cup finely chopped fresh parsley |
Instructions
1. In a small bowl whisk together the lemon zest, olive oil, salt, and herbs. Pat the chicken dry and rub it all over with the olive oil mixture, including in the cavity and under the skin as much as possible.
2. In second small bowl mix together the corn and parsley and pour it into the chicken cavity. Shove in at least two or three of the lemon quarters to prevent the corn kernels from slipping out. Place the chicken in a clean roasting pan and all it to rest for at least 4 hours or up to overnight in the fridge.
3. Preheat the oven to 400ºF.
4. Remove the chicken from the fridge and place it in a roasting rack set inside a roasting pan. Roast for about 2 hours (rough 30 minutes per pound), or until the skin is crispy and golden and the juices run clear.
Naptime Notes
Naptime Recipe Serving ideas
This classic dish pairs well with nearly everything. We ate it with potatoes and salad, but a Baked Saffron Rice would taste great as well.
Naptime Stopwatch
20 minutes to prep, 2 hours to roast
Naptime Reviews
We loved the herbaceous flavor the meat took on after absorbing the rub. A great fall comfort meal if there ever was one.