November 22, 2011
Vanilla Cupcakes with Strawberry Buttercream and A Good Dog's Life {Naptime Entertaining}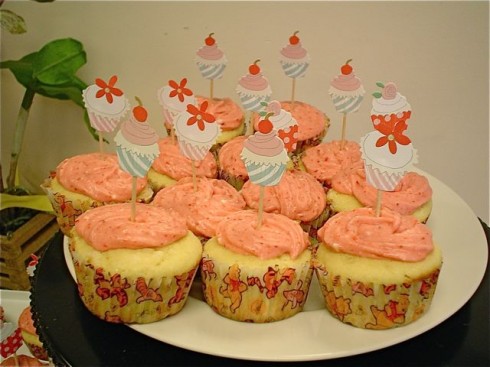 This month has been full of ups and downs and has made me thankful for a lot of things. At the beginning of the month my book cover was finalized and it is now available for pre-order! Then, a mere two days later our dearest dog passed away suddenly of a mysterious illness. Mid-month we celebrated my daughter's birthday with her classmates and devoured gorgeous vanilla cupcakes with strawberry meringue frosting, and that very same week my close friend's father lost his battle with cancer. I know it is hard to compare losing a dog to a losing a person, but they were equally devastating loses for me. Luckily, I was buoyed along by the thrill of impending publication and the constant smile on my daughter's face. If nothing else, this roller coaster of emotional peeks and valleys only made me more thankful for the wealth of love and support I have in my life.
These are the delicious cupcakes I made for my daughter's birthday party. I baked deeply rich, moist vanilla cupcakes and topped them with strawberry frosting and a whole package of princess candles (not reflective of her age, just the fact that she loves princess candles). The flavor was entirely her request and I was happy to oblige. Needless to say I made and frosted these while she was at school before transporting them to the birthday location. It was simple to make them in such a short time and I am glad everyone was able to enjoy them fresh.
The day after her birthday party I drove up to Cooperstown for my friend's father's funeral, and to attend the wedding of another dear friend just two days later. All the while I was at my parent's house and thinking of sweet Fletcher. Two days after Halloween he and his sister, Fiona, developed a bizarre anaphylactic reaction and were rushed to the vet. After several days of intubation, antihistamines, antibiotics and the like, Fiona, the younger and stronger of the two dogs, recovered, but Fletcher did not. The damage that had been done was too severe and he slipped into a coma, never to wake up again. We still do not know what caused there terrible allergic attack, the going theory is that it was a freakish poisonous spider bite of some kind.
As I was walking around my parent's house I found myself waiting to hear the click-click of Fletcher's paws following me around, hoping for just one last chance to nuzzle his soft fur. But now he is a "doggy angel", as my daughter says, and we buried his ashes in his favorite spot in the backyard.
All this emotion has made me grateful for this Thanksgiving week. I am taking off for Florida with my family and will be resting and relaxing with my birthday girl and her Dad. While I am so sad about those we've lost this month (people and beasts alike) I am grateful that they are being remembered with the love and honor they deserve. When we clasp hands around our Thanksgiving table this year I will also be thankful for all of my friends, family, supporters and readers. I know I am lucky, and your support does not go unnoticed. Have a happy, healthy Thanksgiving and I'll return next Monday to kick of a new, delicious, holiday season.
Recipe
 Vanilla Cupcakes with Strawberry Buttercream
adapted from Magnolia Bakery
Ingredients
For the cupcakes:
| | |
| --- | --- |
| 1 ½ | cups self-rising flour |
| 1 ½ | cups cake flour |
| 2 | sticks unsalted butter, softened |
| 2 | cups sugar |
| 4 | large eggs |
| 1 | cup whole milk |
| 1 | teaspoon vanilla extract |
For the frosting
| | |
| --- | --- |
| 1 | cup strawberries, washed and hulled |
| 2 | sticks unsalted butter, softened |
| 6 – 8 | cups confectioners' sugar |
| 2 | teaspoons vanilla extract |
Instructions
1. Preheat the oven to 350F. Line two 12-cup muffin pans with liners and set aside.
2. In an electric mixer cream the butter until smooth. Add the sugar and beat well until fluffy, about 2 minutes. Add one egg at a time, beating well after each addition. Add the vanilla and mix well.
3. Mix together the flours and slowly add them into the mixer with it on low speed, alternating with the milk. Once everything is incorporated stop the mixer. Fill each muffin cup about ½ to ¾ full and smooth the tops. Bake for about 20 to 25 minutes, or until the muffins are lightly browned and spring back when touch.
4. To make the frosting beat the butter and 6 cups of sugar until completely smooth. Puree the strawberries in a blender or food processor and strain out the seeds if desired. Pour the strawberries into the sugar and mix well, adding the remaining two cups of sugar bit by bit until the frosting becomes nice and thick. Pipe it onto the cupcakes with a pastry bag or use an offset spatula.
Naptime Notes
Naptime Recipe Serving ideas
These cupcakes were great for kids because they were not too large. They were just the right amount of cake for little hands.
Naptime Stopwatch
20 minutes prep time, 20 minutes bake time
Naptime Reviews
These were a hit all around – just what she wanted!