February 7, 2012
Chocolate Caramel Pretzel Tart & Scharffen Berger Chocolate Giveaway! {Naptime Everyday}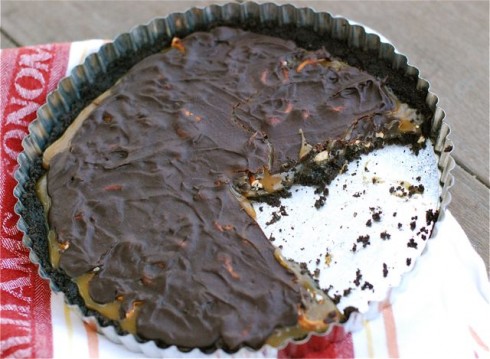 What's Going on Today: Getting ready for Thailand trip in less than two weeks! Working on naptime cooking-friendly Valentine's Day menu.
Naptime Goals: Make Chocolate Caramel Pretzel Torte, fire-up the slow cooker to make tonight's lasagna!
Tonight's Menu: Slow Cooker Lasagna, green beans, red wine.
One week from today I'll wake up to a shower of roses, three hour long massage and bags of diamond jewelry. Or not. But it will be Valentine's Day and, for the record, sarcasm aside, my husband always does something sweet for me and I for him. This year I'll continue our tradition of a romantic homemade dinner after our little one is asleep, and will serve this tart for dessert. I came up with the recipe after my husband expressed his love for this awesome combination of salted caramel and chocolate I made for last year's New Year's Eve bash.
To begin my riff on the Saveur version I decided to salt the caramel with crushed pretzels (his favorite salty snack) instead of sea salt. I liked that the pretzels would lend a welcome bit of crunch, and just the right amount of salt, to the otherwise silky sauce. I opted for a simple chocolate wafer crust since it is chocolatey, without being overwhelming, and draped the whole thing with a blanket of dark chocolate and a few more crushed pretzels.
This test version was a hit with the neighborhood moms. I begged them to try it at playgroup (I didn't really have to get all that much) and they agreed the pretzels were a welcome addition. It was also a hit with me since the entire thing can be made in advance. I'll probably make it while my daughter is at school on Tuesday and stick it in the fridge until after she is asleep and it is time to eat. As for the rest of the menu, well, you'll just have to wait and see about that!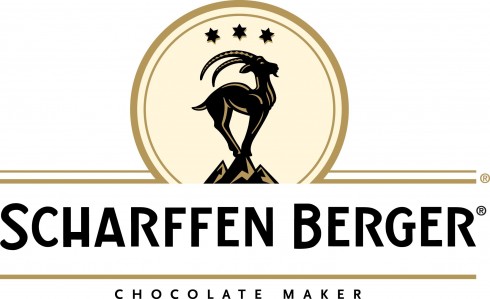 This week Scharffen Berger is giving away 8 of their delicious 3-ounce chocolate bars! Including:
82% Extra Dark
70% Bittersweet
62% Semisweet
62% Dark Nibby
62% Mocha
41% Extra Rich Milk
41% Milk with Sea Salted Almonds
41% Milk Nibby
1. Leave a comment telling me your favorite Valentine's Day chocolate dessert.
2. Sign up for The Naptime Chef newsletter (upper left hand corner)
3. Like The Naptime Chef on Facebook (tell me if you don't use Facebook)
4. Contest runs from February 7th at 7:00am ET through February 13th at 9:00pm ET. Winner will be announced on February 14th at 7:00 ET. If the prize is unclaimed after 48 hours another recipient will be chosen. Winners will be chosen by random.org.
Recipe
 Chocolate Caramel Pretzel Tart
Ingredients
For the crust:
| | |
| --- | --- |
| 1 ½ | cups chocolate wafer cookie crumbs |
| 2 | tablespoons sugar |
| 6 | tablespoons unsalted butter, melted |
For the caramel sauce:
| | |
| --- | --- |
| 1 ½ | cups granulated sugar |
| 3 T. | light corn syrup |
| 6 T. | unsalted butter |
| 6 T. | heavy cream |
| ¾ | cup lightly crushed pretzels, divided |
For the topping:
| | |
| --- | --- |
| ½ | cup heavy cream |
| 4 | ounces dark chocolate, finely chopped (I used my Scharffen Berger bar it was amazing!) |
Instructions
1. To make the crust stir together all the ingredients in a small bowl until the crumbs are evenly moistened. Press the chocolate crumbs into a butter 9-inch tart pan with removable bottom and refrigerate for one hour.
2. To make the caramel: whisk together the sugar, corn syrup and 6 tablespoons water in a small saucepan and bring to a boil. Allow the mixture to cook until a candy thermometer reads 340, or the mixture is a light amber color. Remove the pan from the heat and whisk in the butter and heavy cream. Once it has cooled for about 5 minutes, spread the caramel into the chocolate crust and top with ½ cup fo the crushed pretzels.
3. Make the topping by melting the chocolate and cream together in the microwave until it is just smooth. Stir them together until it is one smooth sauce. All the sauce to cool for 2 minutes, then pour it over the caramel sauce and top with remaining crushed pretzels. Refrigerate the tart for about 4 hours, or until the top is set.
Naptime Notes
Naptime Recipe Serving ideas
This gorgeous tart barely needs an accompaniment, but a glass of champagne is always nice.
Naptime Stopwatch
30 minutes to prepare, 30 seconds to eat
Naptime Reviews
The addition of crushed pretzels is a keeper!