March 7, 2012
Katie's Quinoa with Hearts of Palm, Cucumber, and Feta {Naptime Everyday}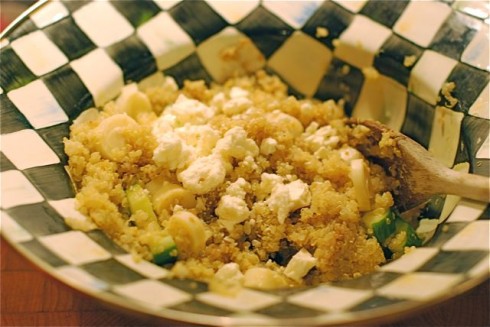 What's Going on Today: Preparing for next week's book launch!!
Naptime Goals: Prepare quinoa salad and vinaigrette, prep chicken in the slow cooker. Finalize details for upcoming book tour dates.
Tonight's Menu: Slow-cooker lemon chicken, quinoa with hearts of palm, cucumber and feta, white wine!
Quinoa and I are becoming fast friends. To make up for the lost time it took me to actually get on the bandwagon I am cooking it nearly once a week. The trick, I've decided, is to doctor it up with lots of healthy flavors. In my kitchen quinoa is the perfect backdrop for many things including nuts, craisins, scallions, blueberries, and a nearly anything in my pantry. When preparing quinoa the other day I decided to recreate a delicious salad I had a last summer while visiting my friend Katie in Sag Harbor. The grain was tossed with slice hearts of palm and a red wine vinaigrette and was filling and refreshing accompaniment to our grilled chicken dinner.
To make the salad in advance I simply cooked up the quinoa and dressed the final salad right before we were ready to eat. Cooked quinoa holds up well when cooled so this technique worked well. To doctor it up I added the hearts of palm, per Katie, one small diced cucumber and a sprinkling of feta. Tossed with a light vinaigrette it was the perfect healthy side dish. We like the balsamic and olive oil dressing but I think I might have some more fun with the seasonings when I make this next time. It would be great with a dash of dried Greek seasoning or even some subtle heat.
Recipe
 Katie's Quinoa with Hearts of Palm, Cucumber & Feta
Ingredients
| | |
| --- | --- |
| 1 | cup quinoa, uncooked |
| 1 | medium cucumber |
| 1/3 | cup crumbled feta, |
| 3 | stalks Heart of Palm from a can, drained |
| 1/3 | cup olive oil |
| 2 | tablespoon balsamic vinaigrette |
Instructions
1. Cook the quinoa according to package directions. Drain and set aside.
2. Chop the cucumber into bite size pieces and slice the hearts of palm into similar sized pieces. Toss with the cooked quinoa and sprinkle with feta,
3. Whisk together the balsamic and olive oil and toss with the quinoa. Serve!
Naptime Notes
Naptime Recipe Serving ideas
To give this even more of a greek twist try adding chopped olives and sliced tomatoes for a nice salty bite!
Naptime Reviews
This was a great refreshing salad for dinner!