March 28, 2012
Simple Creamy Shrimp with Penne {Powernap}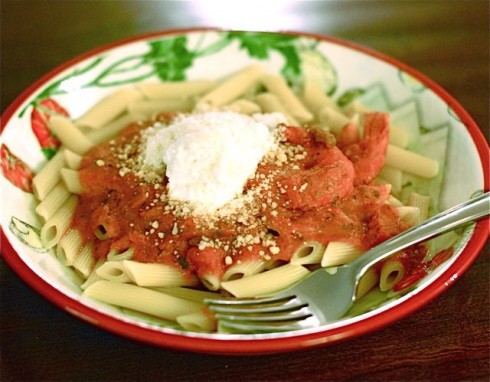 This is the latest installment of my Powernap column. The series where I share quick, easy food that can be made for all kinds of situations. Powernaps are short and sweet, and so are these recipes. These are the things I make in a jiffy when I need a quick snack, am in the mood for a recipe experiment, or simply need to clean out the pantry.
In preparation for our upcoming trip I've been cleaning out the fridge and freezer. I've cooked all sorts of interesting meals, some good, some not-so-good, comprised of found items from the back of our refrigerator shelves. Earlier this week I decided to use up the last of the frozen shrimp. I've been cooking from the large bag for about a month and there was just enough left to make one more good meal.
In the interest of time, while my daughter was at school I thawed the shrimp and kept it in the fridge. Then, I whipped up the simply creamy sauce. Once that was done I got back to cleaning the house and packing. It really is a wonder how much effort it takes to get out of the house for one whole week!
For dinner I simply boiled up some penne, cooked the shrimp in the reheated sauce and piled it all into big bowls. With a dusting of chopped basil it was a satisfying dinner that came together so easily on a busy day.
Recipe
Simple Creamy Shrimp with Penne
Ingredients
| | |
| --- | --- |
| ½ | box penne |
| 24 | shrimp, deveined and thawed |
| 2 | cups marinara sauce |
| 2 | tablespoons cream |
| 2 | teaspoons hot sauce of choice |
| 1 or 2 | basil leaves, finely chopped |
Instructions
1. In a medium sauce pan warm the marinara sauce, cream, and hot sauce until it comes together and is hot all the way through. Do not let it come to a boil. Add the shrimp and allow it to cook in the sauce for about 5 minutes, or until cooked through.
2. Meanwhile cook the penne just until al dente and drain.
3. Remove the sauce from the heat and stir in the cooked pasta. Spoon into bowls and serve with Parmesan cheese and basil.
Naptime Notes
Naptime Recipe Serving ideas
If you don't like soup you could substitute chicken, scallops or meatballs Or, you can just toss the sauce with pasta and add cubed mozzarella to for a great vegetarian meal.
Naptime Stopwatch
10 minutes prep time, 20 minutes cook time
Naptime Reviews
This was a happy simple meal that we all loved.