May 22, 2012
Grilled Marinated Artichoke Hearts with Blue Cheese & Walnuts {Naptime Everyday}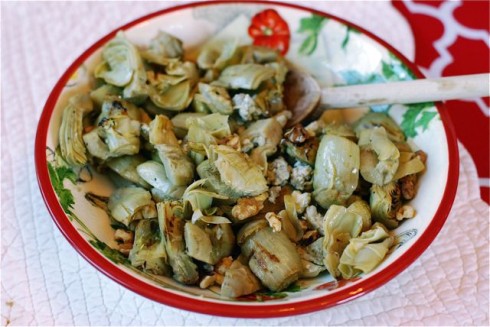 What's Going on Today: End of weekend grilling fiesta
Naptime Goals: Marinate Artichoke Hearts, make burgers
Tonight's Menu: Grilled marinated artichoke hearts with blue cheese and hazelnuts, burgers with chive-parsley butter, watermelon margaritas.
One of my favorite pieces of advice for naptime cooking is encouraging people to marinate food early in the day. When the baby is napping, before you go to work, even the night before when everyone is asleep, take the time to put meat or vegetables in a flavorful marinade, shove it in the fridge, and forget about it until dinner time. It is one of the absolute easiest ways to start your dinner plan in advance! Lately, I've been talking a lot about forming burgers during naptime, and I always marinate chicken and shrimp, but today I'm going to shift my focus to vegetables.
We love the flavor of grilled vegetables and it is not infrequent that we marinate them prior to grilling. For this dish I marinated my thawed artichoke hearts in an awesome mixture of lemon juice, olive oil, and fresh herbs from our garden while my daughter was at the playground with her dad. (You know artichokes are my favorite!) At dinner I drained the marinade and poured the hearts into a grilling basket. They were tossed lightly on over the charcoal until grill marks appeared, then I spread them out on shallow platter. To give them extra flavor and crunch I tossed on a few crumbles of blue cheese and toasted chopped walnuts. I've always loved the way blue cheese tasted with artichoke hearts and with this method the blue cheese actually melted a little into the still warm vegetables, forming a light sauce. It was a delicious, healthy side dish we all loved!
For more great ideas on ways you can marinate and flavor spring and summer vegetables check out these great posts and recipes:
2) A Very Veggie World Recipe Book
Recipe
Grilled Marinated Artichoke Hearts with Blue Cheese & Walnuts
Ingredients
| | |
| --- | --- |
| 1 | bag frozen artichoke hearts, thawed |
| 1 | cup olive oil |
| 1 | lemon, juiced and zested |
| 4 | cloves garlic, minced |
| 4 | sprigs thyme |
| 1 | teaspoon kosher salt |
| 1/3 | cup blue cheese crumbles |
| ¼ | cup walnuts, lightly toasted and chopped |
Instructions
1. Place the artichoke hearts in a large bowl and set aside.
2. Whisk the olive oil, lemon juice, lemon zest, minced garlic, thyme, and kosher salt in a small cup and pour over the artichoke hearts. Toss swellw to combine, then place the artichoke hearts in the fridge for at least 2 hours, or up to one day.
3. Light the grill and bring it medium heat. Drain the marinade off the hearts, but don't wipe off all the oil. Place them in a grilling basket, or some grill toll that will make it easy to toss them and not let them fall through the grate. Grill the artichoke hearts for about 5 minutes, tossing them in the basket regularly so they cook evenly.
4. Once they are cooked, transfer the hearts to a large, shallow pan where they can be in one layer. Sprinkle with the blue cheese and hazelnuts. If desired, add one more drizzle of olive oil and a pinch of kosher salt. Serve!
Naptime Notes
Naptime Recipe Serving ideas
This is a great hearty salad for summer. Since it is so strongly flavored with the blue cheese it can stand in for a green salad, or be served alongside something milder like corn. Alternatively, omit the blue cheese and just topped it with a simple pat of butter!
Naptime Stopwatch
10 minutes to prepare, 10 minutes to cook
Naptime Reviews
My husband and I adored this new preparation of our favorite artichoke hearts!