May 3, 2012
Vanilla Birthday Cake with Vanilla Bean Frosting {Naptime Entertaining}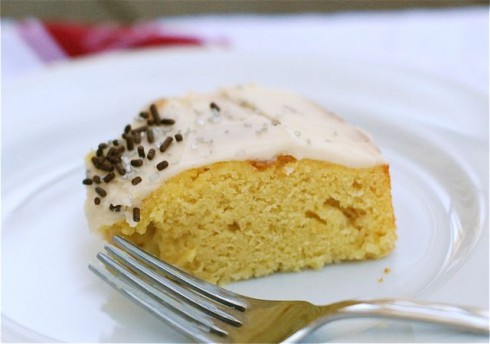 The classic yellow layer cake with chocolate frosting is a mainstay recipe in our house. It is my husband's favorite cake of all time so it was no surprise to me when he requested it yet again for his birthday last month. Of course I was happy to make it, but I couldn't help but wonder if it was time for a small change. I wanted a simpler single layer cake with a creamier texture. I also wanted to try it with a vanilla frosting instead of chocolate since my daughter is "really into vanilla" (her words, not mine) these days.
Despite my hectic California trip pulling this new cake together when I got home was a cinch. I added several egg yolks and a healthy dose of vanilla extract to give it a dense poundcake-like texture. For the frosting I whipped up our usual vanilla buttercream but also added a healthy scrape of vanilla beans so you could literally see them in the frosting.
My daughter decorated the cake when she got home from school with silver and chocolate sprinkles. She was so proud of the sparkly topping! After dinner we added a candle (my husband has vetoed the idea of amount of candles equaling age on his cakes) and sang him the birthday song.