July 11, 2012
Ice Cream Week: Caramel Twix Ice Cream Pie {Powernap}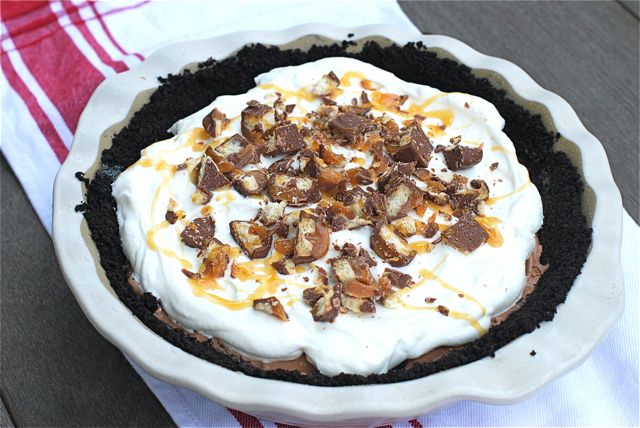 This is the latest installment of my Powernap column. The series where I share quick, easy food that can be made for all kinds of situations. Powernaps are short and sweet, and so are these recipes. These are the things I make in a jiffy when I need a quick snack, am in the mood for a recipe experiment, or simply need to clean out the pantry.
Last week we had a little Fourth of July celebration and it was about a thousand degrees outside. Not really, obviously, but that is what 103F feels like when you live in Connecticut. Since ice cream was just about the only thing I could stand to work with in the kitchen I decided to dress up our usual fare and make an ice cream pie inspired by my favorite candy bar, the Caramel Twix.
It felt appropriate to whip up this decadent treat for this holiday because it is like a true slice of Americana. It is all made with classic flavors and appeals to everyone from adults to the youngest kids at the party. Best of all, it was a cinch to whip up during naptime. I had no trouble at all getting it made from scratch and in the freezer in less than twenty minutes! For your summer party, stifling hot or not, here is your new favorite freezer dessert.
Recipe
 Caramel Twix Ice Cream Pie
Ingredients
| | |
| --- | --- |
| 1 | prepared chocolate cookie crust |
| 2 | pints chocolate ice cream, softened |
| 3 | Caramel Twix bars, roughly chopped |
| 2 | cups whipped cream |
| 2 | tablespoons caramel sauce for drizzling |
Instructions
1. Spread one of the chopped Twix bars on the bottom of the cookie crust. Stir together the chocolate ice cream and spread it evenly over the Twix bar.
2. Dollop the whipped cream on top of the ice cream and toss the remaining chopped Twix bars on top, followed by a drizzle of caramel sauce.
3. Immediately cover the pie loosely with plastic wrap and freeze for at least four hours, or until ready to serve.
Naptime Notes
Naptime Recipe Serving ideas
This is a great summer dessert but don't forget that it will melt so keep it chilled!
Naptime Stopwatch
20 minutes, plus freezing time
Naptime Reviews
A big hit, it was gone in one sitting!