February 5, 2013
Classic Turkey Meatballs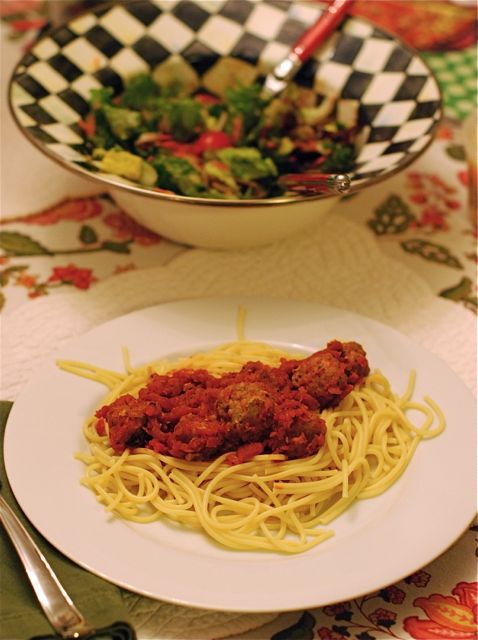 One of the favorite things my mother made for us when she came were these moist turkey meatballs. They are a little lighter than normal beef meatballs and were perfect for thawing and tossing with some fresh pasta and tomato sauce on a night when we needed a substantial, yet comforting, meal.
My mom claims she made them based on her normal method for making meatballs so I've done my best to recreate her recipe. I think it is one of those situations where she has been making meatballs for so long she essentially does it by eye. She knows how proportions  of meat to breadcrumbs to flavoring should look and that the batter shouldn't be too dry or too moist. I also happen to know that two of her meatball making "secrets" is that she always uses seasoned breadcrumbs and adds a touch of fresh garlic for extra flavor and moisture.
While we went the traditional route with serving the meatballs with pasta, they also be great serving on a roll with sauce, or in a big batch of Italian wedding soup. Just make them a little smaller if you are serving them in a soup. I also highly recommend these for taking to new parents. They freeze beautifully and any new parent – take it from me – would be thrilled to receive these in a cooler of food!
Recipe
Classic Turkey Meatballs
Ingredients
4
small garlic cloves, minced
1
egg
1/3
cup breadcrumbs
1/3
cup Parmesan cheese
1
teaspoon kosher salt
1 teaspoon freshly cracked pepper
1
pound dark turkey meat
2
tablespoons finely chopped fresh parsley
Instructions
1. In a large mixing bowl combine the garlic, egg, breadcrumbs, Parmesan, salt and pepper.  Then add in the turkey and mix everything until it is well combined.
2. Use clean hands to shape the meatballs into 1-inch round circles and place them on a lined baking sheet.
3. Preheat the oven to 350 degrees F. Bake the meatballs for about 20 minutes, rotating them with a wooden spoon halfway through.
4. Once they meatballs are cooked, remove them from the oven and allow to cool. Then chill them in the fridge until you are ready to eat! I like to warm them up in the sauce on the stove while the pasta is boiling.
Naptime Notes
Naptime Recipe Serving ideas
We adored these tossed simply with pasta, but they would be great as a sub sandwich or in a pita pocket.
Naptime Stopwatch
20 minutes prep time, 20 minutes cook time
Naptime Reviews
These yummy, easy meatballs are a wonderful, simple meal that are perfect for winter!