March 27, 2013
Herb Cod with Polenta and Roasted Tomatoes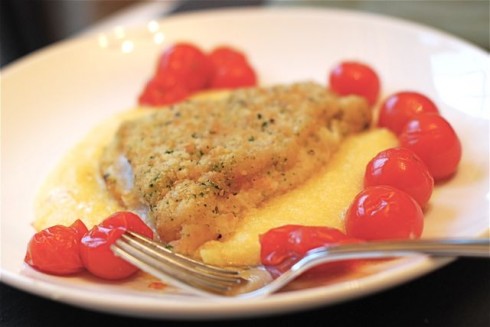 With Easter just around the corner I am wrapping up my Friday fish meals for Lent with Sea Cuisine. I'll admit, I will not stop eating all the awesome things I've been writing about just because Easter has arrived. The Sea Cuisine fish is so good and is such a wonderful way to get a healthy seafood meal on the table any night of the week! For this week's meal I went back to our favorite Herbed Cod and served it over some fresh Parmesan Polenta topped with roasted tomatoes. It was a simple weeknight meal that was a huge hit with everyone.
While adding roasted tomatoes to our meal may seem a tad labor intensive for a weeknight here is what I did: I roasted them in the same pan as the baking fish. So easy! I simply used a large baker for the Sea Cuisine Cod and scattered the tomatoes tossed with olive oil all around it. As the fish baked the tomatoes roasted and wilted to perfection. While everything was in the oven I stirred together the polenta and had it ready by the time the fish and tomatoes were complete. In the end I only dirtied two pans and dinner was on the table in the snap. Is there any better way to prepare seafood on a weeknight? I can't think of it! Happy Easter weekend!
Recipe
Herbed Cod with Polenta and Roasted Tomatoes
Ingredients
| | |
| --- | --- |
| 2 | Sea Cuisine Herbed Cod fillets |
| 1 | cup cherry tomatoes |
| 4 t | ablespoons unsalted butter |
| ¼ c. | olive oil |
| 1 | clove garlic, minced |
| 3 c. | chicken stock |
| 4 c. | milk |
| 2 c. | Polenta |
| 1 | cup freshly grated Parmesan cheese |
Instructions
1. Preheat the oven to 375 degrees F. Lightly coat the large baking dish with olive oil and place the fillets in it. Then, scatter the tomatoes around the fillets and roll them in the oil so they are completely coated. Bake for 30 minutes, or until the fish is cooked through and the tomatoes are roasted and wilted.
2. For the Polenta: Place butter and olive oil in a saucepan over medium heat. Allow butter to melt fully and stir in the olive oil. Add the garlic and stir for 2 minutes.
3. Add chicken stock and milk and slowly bring to a boil over medium heat. Once mixture is boiling sprinkle in 2 cups of polenta, whisking constantly to make sure no clumps form. Then, switch to a wooden spoon and stir until mixture is thickened like the dense porridge. About 8-10 minutes.
4. Remove the mixture from the heat and stir in the cheese. Once the mixture is smooth divide amongst the dinner plates. There will be leftovers! Spread the leftover polenta in a baking dish and cover with plastic wrap. Then, allow it to cool and refrigerate overnight. Cut into square and reheat the next day.
5. Serve the hot fish on the polenta and scatter the tomatoes on top. Enjoy!
Naptime Notes
Naptime Recipe Serving ideas