June 13, 2013
Dad's Chocolate Mint Chip Cookie Ice Cream Sandwich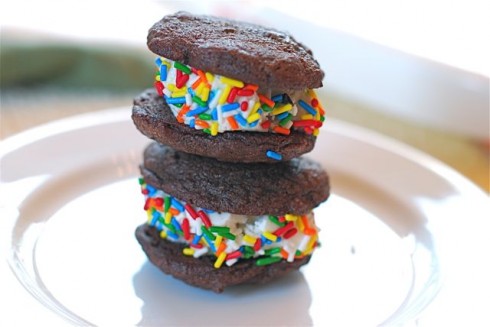 It is not an exaggeration to say my daughter has been planning our father's day celebration all spring. She came home with her father's day gift completed and wrapped in mid-May, and ripped a picture of ice cream sandwiches from a magazine way back in April. These, she declared, are what we will make for dad on father's day. For our meal on Sunday I am going to cook all the recipes from the father's day chapter of my next book. For dessert, however, my daughter is planning to make some all out ice cream cookie sandwiches. She surmised that chocolate cookies are his favorite so that is what we baked to be the bookends of our ice cream. She chose mint chocolate chip ice cream for the filling. For the final touch she elected to coat them in an assortment of sprinkles and mini-chocolate chips. These, she explained, are what makes them pretty.
To make our sandwiches the first thing we did was bake some chocolate cookies. I just made a very basic chocolate cookie batter and added a little extra salt for a special touch. Then, we scooped the ice cream between each one and rolled the edges in the aforementioned sprinkles. To save them for Father's Day we've wrapped them in plastic wrap and placed them in the back of the freezer until we need them. I am a little surprised that nobody has been sneaking bites when I am not looking. But I haven't noticed any teethmarks or finger swipes on them yet!
Despite all my menu planning I am quite sure these classic summer treats are going to be the runaway hit of the party. In fact, I suspect once we learn how to make them we will be making them quite a lot in the next few months!
Recipe
 Mint Chocolate Chip Cookie Ice Cream Sandwich
Ingredients
| | |
| --- | --- |
| 2 ¼ | sticks unsalted butter, room temperature |
| 1 c. | sugar |
| 1 c. | light brown sugar |
| 2 | eggs, room temperature |
| 2 ½ c. | all-purpose flour |
| ¾ c. | unsweetened cocoa powder |
| 1 t. | baking soda |
| 1 t. | Kosher salt |
| 1 | tablespoon or more fine sea salt for sprinkling |
| 1 | tub mint chocolate chip ice cream |
| 1 | cup multi colored sprinkles |
Instructions
1. Preheat the oven to 350ºF. Line baking sheets with parchment paper or silpat and set aside.
2. In an electric mixer cream the butter and sugars until light and fluffy. Then, add eggs one at a time, beating well after each addition.
3. In a separate bowl mix together dry ingredients: flour, cocoa powder, soda, and salt. Give them a quick stir with a whisk to combine.
4. With the mixer on low slowly add dry ingredients to the wet ingredients and mix until all combined, scraping down the sides as needed. Do not overbeat.
5. Drop the batter by the rounded teaspoonful onto cookie sheets and sprinkle the tops with sea salt. Bake for 10-12 minutes. Cool the cookies on a wire rack until they are room temperature.
6. Pour the sprinkles in a shallow bowl. Scoop the ice cream into large balls and sandwich them between the cookies just until they come to the edges of the cookie. Don't let the ice cream spill out of the cookies. Working quickly, roll the sandwiches in the sprinkles, pressing them into the ice cream as needed. Then, wrap the sandwiches in plastic wrap and store in the freezer until needed.
Naptime Notes
Naptime Recipe Serving ideas