December 11, 2013
Chocolate Peppermint Holiday Cupcakes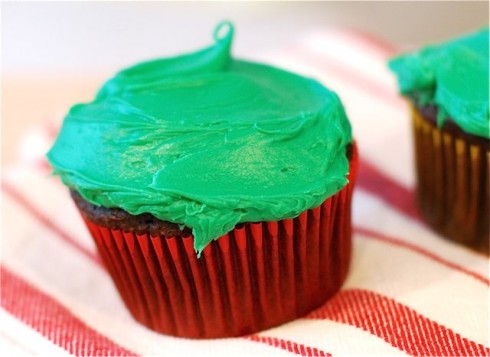 There is nothing quite like the flavor of chocolate and peppermint during the holiday season. I am a huge fan and so, it turns out, is my daughter. The other day we were baking together and decided to make some holiday cupcakes. I haven't been baking as much this season since I've been busy testing recipes for the next book. I've been so focused on perfecting my Butter Rum Cake with Eggnog Frosting that I've only made two batches of Christmas cookies. However, when she tugs on my arm to do a little baking I never say no. I was more than happy to make these simple cupcakes.
The cool thing about these is that they come together so easily and they really taste just like Christmas. At her request we dyed the frosting bright green with food gel paste. I was lobbying for red striped like a candy cane but was clearly overruled. We gobbled these cupcakes down over the course of a week at home. They would also be great for a kids gathering or Christmas party.
Chocolate Peppermint Holiday Cupcakes
Ingredients
1 ½ cups all-purpose flour
1 ½ cups granulated sugar
¾ cups cocoa powder
1 ½ teaspoons baking soda
¾ teaspoon baking powder
1 teaspoon kosher salt
¾ cups water
¾ cups buttermilk
2 large eggs
3 tablespoons vegetable oil
½ teaspoon peppermint extract
Frosting:
1 pound confectioners' sugar
1 stick unsalted butter, softened
1 pinch salt
4 tablespoons whole milk
1 teaspoon vanilla extract
Instructions
1. Preheat the oven to 350 degrees F. Prepare a muffin tin with paper liners or butter the cups thoroughly.
2. In a large bowl sift the flour, sugar, cocoa, soda, powder, and salt. Then, add the eggs, water, buttermilk, oil, and peppermint extract and stir until the batter is smooth.
3. Fill each tin 2/3 full and bake the cupcakes for 20 minutes, or until the tops spring back lightly when touched. Remove to a wire rack to cool completely before frosting.
4. For the frosting: Beat the sugar and butter until lightly and fluffy. Then, beat in the salt, milk and vanilla until smooth. Dye with food gel if desired. Frost the cooled cupcakes.
http://www.thenaptimechef.com/2013/12/chocolate-peppermint-holiday-cupcakes/