December 3, 2013
Frozen Peppermint Pudding Pie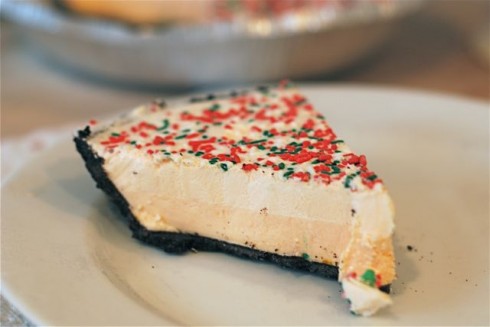 Last weekend with kicked off the Christmas season with a little holiday celebration. Our good friends came over for dinner. We lit our first fire in the fireplace, and cooked up a whole bunch of our favorite treats including a delicious treat with peppermint. One of the things we made was this awesome peppermint pudding pie. Even in winter my daughter is a chilled dessert fanatic and I knew it would the perfect dessert to serve after dinner.
To make this amazing frozen concoction I started with this Peppermint Pie recipe as my base. We swapped out pistachio pudding for vanilla and kept the rest the same. It was such a simple and fun dessert to make together. The hard part was not eating all the filling as we swiped it into the cookie crust! I decided to give my new Vine app a go and film us making the pie together. I think it came out pretty well!
Since we are all about making cooking fun during the holiday season I let my daughter go crazy with the sprinkles on top. At one point I was a tad concerned it might end up being more like a pile of sprinkles with some pie underneath, but she managed to keep it relatively balanced. We made the pie in the afternoon and popped it in the freezer to harden before dinner. For dessert we served it up to our guests with a fresh dollop of whipped cream and got excited for the holidays to begin!
(Disclosure: This post was sponsored by Kraft. The recipe and photographs are my own. Thank you for supporting the sponsors that make The Naptime Chef possible.)
Frozen Peppermint Pudding Pie
Ingredients
1 chocolate cookie crust
1 ½ cups fat free milk
1 package vanilla instant pudding
½ teaspoon peppermint extract
2 cups Cool Whip, thawed
Christmas sprinkles
Instructions
Combine the milk, pudding, and extract in a small bowl and whisk well. Then, whisk the mixture into the Cool Whip.
Pour the mixture into the cookie crust and top with sprinkles.
Freeze the pie for at least 6 hours.Then slice and eat!
http://www.thenaptimechef.com/2013/12/frozen-peppermint-pudding-pie/