April 8, 2014
Parmesan Crusted Tilapia Caesar Salad for Spring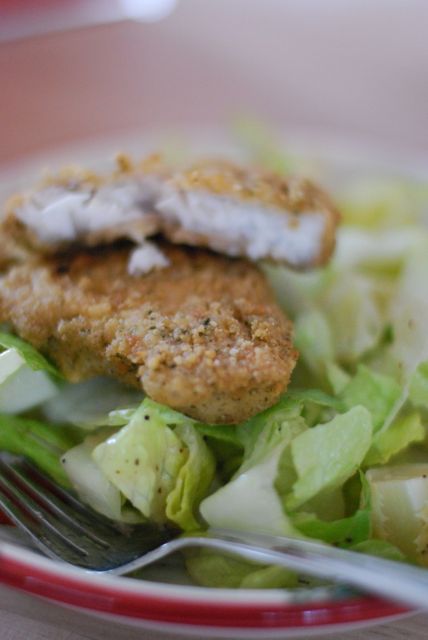 For my next weekly fish meal using High Liner Foods' delicious prepared fish, I am focusing on salad. It isn't because I am on some crazy health kick. It is because this Parmesan Crusted Tilapia was totally made for Caesar salad. It might not seem obvious at first, but is so much better than just serving it with rice and vegetables. The Parmesan crust mimics the same flavor usually found in Caesar dressing, and the breaded coating means you can skip the croutons, too.
In fact, to make this great delicious I tossed the lettuce with my favorite Caesar dressing and topped the whole thing with some freshly baked Parmesan Crusted Tilapia. It is hardly involved, but it was really so good. I had originally tried this with additional shaved Parmesan and lots of croutons but I was overwhelmed with the bread and cheese. It was so much better just to have the breaded fish. This simple salad was the hit of the week and is something we'll be making again and again.
(Disclosure: This post was sponsored by High Liner Foods. The opinions and photographs are wholly my own. Thank you for supporting the sponsors that make The Naptime Chef possible.)
Parmesan Crusted Tilapia Caesar Salad for Spring
Ingredients
2 filets Parmesan Crusted Tilapia, baked according to directions
1 Romaine heart, trimmed and sliced
Your Favorite Caesar Salad Dressing
Instructions
Toss the lettuce in a salad bowl and drizzle with the dressing. Top with the baked fish. Enjohy!
http://www.thenaptimechef.com/2014/04/parmesan-crusted-tilapia-caesar-salad-for-spring/