June 17, 2014
The Secret to the Best Graham Cracker Ice Cream Sandwiches Ever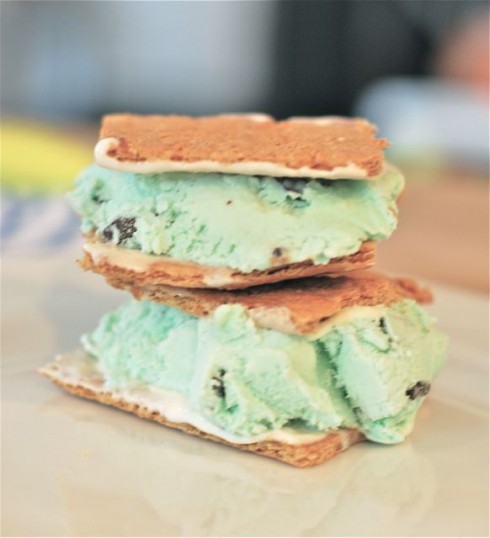 School's out for summer!!! Two decades ago I'd sing that tune at the top of my lungs in mid-June. These days I hear alarm bells. (Ahh – school is out!! Time to entertain entertain entertain (!!!!!!) (Time to panic!!!)) If you are in moderate panic mode like me, here is a little ice cream dessert that will keep the kids occupied for a few minutes. This method for making ice cream sandwiches is newer to me and it is soooo easy. Here is the trick:
The key to making these is understand that graham crackers get soggy and soft when whipped cream sits on them for a little while. Knowing this, the other day I set a plate of graham crackers in our refrigerator and topped them with a very slim, smooth layer of whipped cream. Then I let them sit for 6 hours in the fridge. They got nice and soft, but not too crumbly. I took them out and scooped a ball of slightly softened ice cream on top, pressed down, and the most amazing ice cream sandwich was all set to go!
The best thing about these sandwiches is they are easy to eat since the graham crackers are softened. I always find it so much harder when the crackers stiff and break apart at first bite. My kids went crazy for them. Even the little guy!