August 13, 2014
Greek Chicken Skewers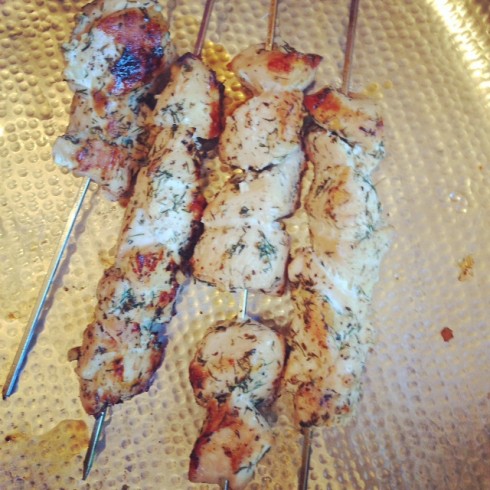 Last weekend some good friends visited us in Cooperstown. When they came in on Friday night we had a big feast to welcome them. It was all about easy, homey, summery food that we all could enjoy at the big table. My mom made one of the salads from my cookbook, lots of corn, and a salad. I contributed these Greek chicken skewers my friend Caroline had made for us last month. They marinade couldn't be more simple and their bright, garlicky flavor is ideal for a summer meal.
marinade adapted from Sandra Lee
Ingredients
¼ cup freshly chopped dill
2 tablespoons chopped garlic
4 teaspoons Italian seasoning
2 tablespoons lemon juice
1/3 cup olive oil
2 teaspoons kosher salt
1 teaspoon freshly cracked black pepper
2 ½ pounds boneless skinless chicken breast, cubed
Homemade tzatziki sauce, or store-bought
Instructions
In a large bowl whisk the first 7 ingredients. Pour it into a large ziploc bag and add the cubed chicken and toss everything well so the chicken is completely covered with the marinade. Refrigerate the chicken this way for at least 2 hours, or up to overnight.
When you are ready to cook the chicken heat the grill to medium flame. Place the chicken on skewers. Place them on the grill and cook for about 5 minutes per side, about 10 to 12 minutes total. Make sure the chicken is cooked through. Serve warm with a side of tzatziki sauce.
http://www.thenaptimechef.com/2014/08/greek-chicken-skewers/