November 6, 2017
Gingerbread House Gourmet Nut Roll for the Holidays
As we round the corner to the holiday season it's time to ramp up your cooking strategy. This is a time to be practical. Do not sacrifice yourself to the kitchen in the name of all that is homemade from scratch. Buy some food, make some food, and just make sure it all tastes amazing. I was recently introduced to this delicious Gingerbread House Gourmet Nut Roll. It came in the mail ready to be eaten and my family was delighted.
The roll itself was freshly homemade. It featured soft, flakey pastry-like bread with a gooey nutty cinnamon filling and a light sugary glaze. We are a family of breakfast eaters so one of the first things I did was warm it on a cool morning. With a hot cup of tea it was the best way to start the morning. Later that day I sliced it up and served it with vanilla ice cream for dessert after dinner.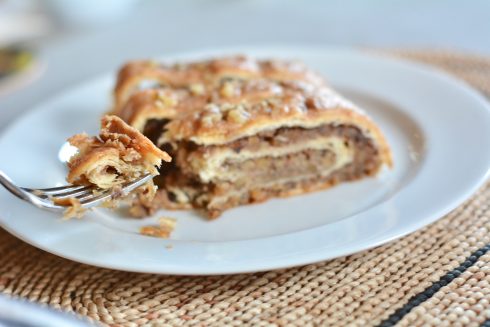 It is full of warm spices hence the delicious flavor that makes is idea for holiday entertaining. In fact, I'd happily take it to a friend's house for dessert or serve it at a dinner party. It even freezes well so you can save it for later. Keep this in mind as you begin your holiday food planning, a nut roll has many roles (har har) and is definitely worth adding to your repertoire.
To purchase a Gingerbread House Gourmet Nut Roll for yourself or as a gift, go to www.gbhnutroll.com/shop.  Be sure to use promo code TNCGBH for 10% OFF!
(Disclosure: This post is sponsored by Gingerbread House Gourmet Nut Roll. The opinions and photographs are entirely my own. Thank you for supporting the sponsors that make The Naptime Chef possible.)