About me
About This Website & Affiliate Disclosure
Hi, I am Kelsey, The Naptime Chef. I am a Mom and a foodie. And I don't think these two things should ever be mutually exclusive. On this site I share everything from family-friendly recipes, to food travel articles, to my favorite lifestyle tips.
Occasionally I work with brands to feature new recipes and products that mesh with my values and this website. My personal mission is to share recipes and tips that are family-friendly and help you feed your family wholesome, healthy food. I always disclose if a post is sponsored at the bottom of the article. I am paid for writing this articles but rest assured that the content is wholly my own opinion. The compensation is one of the many ways I keep my site up and running and help support my family. You can always contact me privately with any concerns or questions.
How The Naptime Chef Started

Before my daughter was born my husband and I enjoyed our time cooking and eating. We had a blast trying out new recipes – some for the best, some for the worst – every week. My life as a foodie was in top form and time was on my side. There was nothing I couldn't or wouldn't make, and nobody to tell me how to prioritize my time in the kitchen. Then my daughter was born. People had warned me that a baby would put a crimp in my cooking style but I didn't really believe them. My vision of maternity leave was me in the kitchen with a sleeping baby in the swing, whipping up dinner as usual. Boy, was I wrong about that.
At first I tried cooking while my daughter sat, wide-awake, in her swing. But she wouldn't have it. Come five o'clock she got a serious case of the grumps and was only content in my arms. By the time she was bathed and in bed – usually somewhere around eight – I was too exhausted to resume cooking and scrapped everything for take-out.
When my daughter was about five months old she got into a normal nap routine and began sleeping through the night. At that point I started cooking during naptime, almost by accident, and realized that it was a potentially great solution to my cooking dilemma. Each day I set aside a little bit of time while she slept to make dinner, or at least part of a meal, so in the evening I only had to reheat or assemble the food in it's final form. On days when I had leftovers or dinner plans I used my free time to bake treats and stock the pantry or freezer with my go-to basics. Cooking during naptime meant I could still enjoy making and eating great food while taking pleasure in nourishing my family. It was a great way for me to adapt my cooking style to fit my new life as a parent.
Once I figured out this new routine I became dead set on marrying my lives as a foodie and a Mom. I started telling all of my friends, most of who were struggling with cooking on a daily basis, and I started my blog, The Naptime Chef®. All of the parenting food blogs seemed to discuss ways to making meal time "fast, quick, easy" but I wanted to write about the pleasure of cooking and eating great food, and how all of it can be fit into family life. Hence my tag line, "Fitting Great Food Into Family Life." If your children don't nap anymore then the food I write about can be made during downtime during the day, like when they are at soccer practice. Or you can be a bedtime chef and cook or bake after they've gone to bed. I take the stance that great food can fit into family life no matter your schedule. Cooking and eating should be enjoyable, even if you are a parent. In short, we all can be Naptime Chefs.
I am exceedingly grateful for the amazing reception this blog has received since its inception. It is my pleasure to share the news that my first cookbook, The Naptime Chef: Fitting Great Food Into Family Life was published by Running Press on March 12, 2012. My second cookbook, The Family Calendar Cookbook: From Birthdays to Bake Sales, Good Food to Carry You Through the Year is slated to be released by Running Press in spring 2015.
More About Kelsey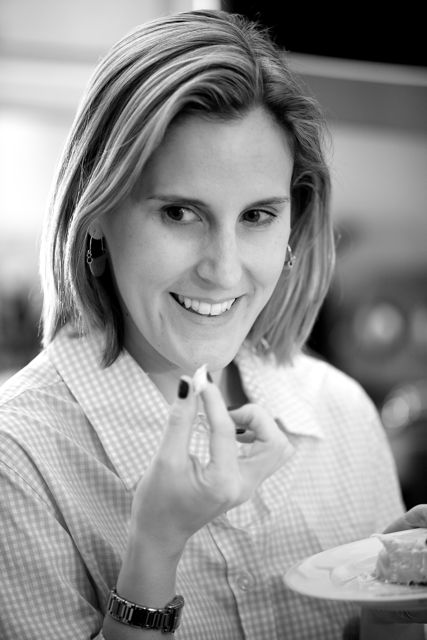 I grew up in Cooperstown New York, a town famous for baseball and cornfields. I first learned about food from the best home cooks in the world, my parents. My earliest memories include being in charge of the ice bath for my father's famous Bread & Butter Pickles and snipping rosemary from my mother's herb garden. I graduated from Emma Willard School and Bates College. While a student at Bates I took pleasure in the semiannual campus lobster bake and local organic produce from Maine farms. I also spent a semester eating my way through Scotland and Europe while a student at the University of St. Andrews and to this day am obsessed with finding the best Sticky Toffee Pudding this side of the Atlantic. I currently live in Southern Connecticut with my husband, my official taste tester, our daughter, an active grade-schooler, and our toddler son.