When the heatwaves hit the first I thing I do is turn off my stove and oven. I want pretty much nothing to do with heated cooking – give me something cold, please!
I've been working on this fun project with Philadelphia Cooking Creme all spring and summer and have really been getting in to using it. So far I've made a lot of hot recipes like enchiladas, hot salads, and creamy pastas. This week I took a new route and made a cold meal with it, this Luscious Grape Salad.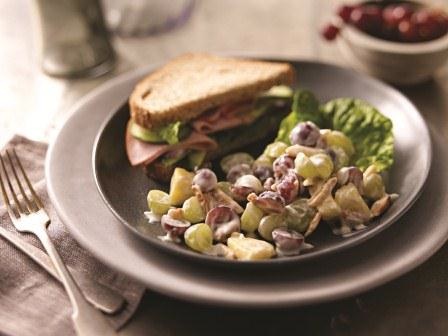 As you can see here, it is the perfect accompaniment to a cold summer sandwich or a with a light grilled chicken breast. It would event be terrific to take to a beach picnic or on a boat ride. The interesting thing about the salad is that it is light and summery without being too sweet. The grapes and brown sugar add a subtle sweetness, while the crunchy almonds and tangy cream give it the perfect savory flavor.
When you are trying to come up with new ideas for a great potluck salad or something for your family look no further than this awesome fruity salad. Your family will adore thank you!
10 ounces Philadelphia Original Cooking Crème
¼ cup packed brown sugar
4 cups each of seedless green and red grapes, halved
2 cups fresh pineapple chunks
1. Mix the cooking crème and the sugar in a large bowl, stir in the ingredients and enjoy!
Disclaimer: This is part of a compensated review program with Philadelphia Cooking Creme but the opinions expressed are entirely my own.
Photo: Philadelphia Cooking Creme