May 25, 2017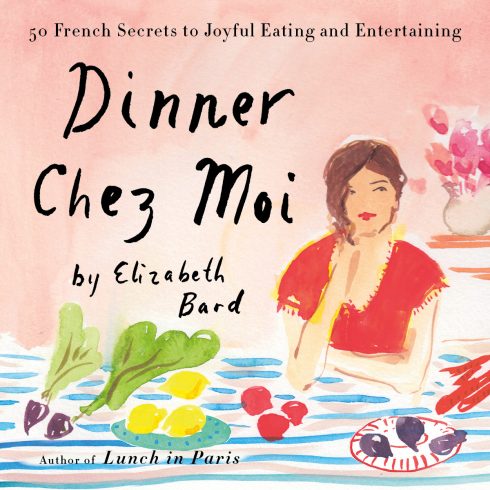 Every time I learn that Elizabeth Bard is coming out with a new book I pre-order it immediately and wait, very impatiently, for it to arrive. You see, I adore her first two memoirs and cook from them all the time. I basically wish she would write a new book every quarter to fuel my ongoing fascination with French food and life. Though I am well aware that is unlikely to happen, so far she seems to be publishing delightful new books every two years and this year happened to be one of them! Dinner Chez Moi: 50 French Secrets to Joyful Eating is her latest inspirational book that is part memoir/part French recipes. It features beautiful watercolors of ingredients and Provence and in it she shares all sorts of lovely recipes and tidbits about life in France.
Recently I had a fun chat with Elizabeth, here it is!:
1) A cookbook! I love how this book is a cookbook with memories scattered throughout. It is a nice supplement to your memoirs. How did the idea for this book come to be?
With Dinner Chez Moi, I wanted to create a sort of mini-reference book – a synthesis of everything I've learned about French cooking and eating habits over the past 15 years. So now, Lunch in Paris and Picnic in Provence can stay on the bedside table, and Dinner Chez Moi can handle all the sticky fingers chocolate stains in the kitchen!
2) I love the range of recipes in this book. It is everything from the simplest of teas to a long pork roast and everything in between. How did you decide what to include and what to leave out?
I wanted Dinner Chez Moi to be a tour of my French kitchen – the majority of recipes are part of my weekly menu planning – lentils, yogurt cake, the chickpea and fresh herb salad, cherry tomato pasta and Provencal risotto are things I return to again and again. I make soup in all seasons, and cheap braising cuts have become a beloved part of my winter cooking. I wanted to include some of my go-to entertaining recipes as well – the lamb and apricot tagine and the Fondant au Chocolat are great make ahead options.